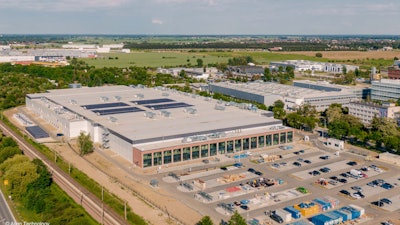 Align Technologies
Align Technology, a global medical device company that designs, manufactures, and sells the Invisalign system of clear aligners, iTero™intraoral scanners, and exocad CAD/CAM services for orthodontic and restorative dentistry, today announced the official opening of the first Europe, Middle East & Africa (EMEA) regional manufacturing facility in Wroclaw, Poland.
The new plant is Align's third regional manufacturing facility worldwide, after Juarez, Mexico and Ziyang, China.
The facility in Wroclaw, Poland, will serve as an operations site for Align's EMEA business and be part of the global manufacturing of almost 1 million unique clear aligner parts per day. The grand opening ceremony took place in Wroclaw on September 15 with the vice-president of the city of Wroclaw, Jakub Mazur, in attendance, together with the Align leadership team and Wroclaw employees. The new Align manufacturing facility is expected to add more than 2,500 jobs by the end of 2025, making it the company's largest investment in the region to date. The new building has an 80,000m2 surface and follows Align sustainability norms, including LEED and ISO14001 certificates.
The new EMEA facility began operations in Q2 2022 as part of Align's strategy to bring its operational facilities closer to its customers. The EMEA region represents over 7 million annual orthodontic case starts, as well as the more than 150 million consumers who could benefit from a healthy, beautiful smile. Align works directly with doctors to provide them with the Invisalign system of clear aligners to prescribe to their patients to straighten their teeth and transform their smiles.
The Invisalign system is used by over 225,000 Invisalign trained dentists and orthodontists. Align has helped doctors treat over 13.4 million patients with the Invisalign system worldwide, including 2.6 million patients in the EMEA region.
Align plans to support all EMEA Invisalign case shipments by 2025, with Poland, Central Eastern Europe and Spain as the first markets to be serviced from Wroclaw.