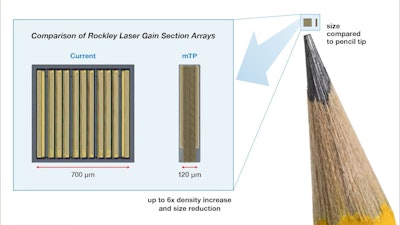 Rockley
Rockley Photonics, a provider of photonics-based health monitoring and communications solutions, has developed what it believes to be the world's first micro-transfer-printed (mTP) silicon-photonics-based laser for commercial applications.
This achievement is expected to allow Rockley to further increase the density and reduce the size of its high-density spectrophotometer chips — which are already the world's smallest for broadband infrared wavelength laser spectrometry (covering 1000 nanometers of spectrum) and are smaller in area than LED-based solutions currently used in wearables.
This advancement could potentially have a significant impact across a wide range of applications, including the design of exceptionally small wearable devices for the detection and measurement of multiple biomarkers. New silicon-photonics-based biosensing chips using mTP technology are expected to be available in the first half of 2024. The new chip technology should have no impact on the upcoming launch of Rockley's Bioptx biosensing band nor on any current-generation products that Rockley and its customers are developing.
Rockley has increased the laser density of its photonics integrated circuits (PICs) for biosensing, creating what it believes to be the world's highest-density broad-wavelength laser spectrophotometer chip, surpassing its own previous achievements. Moreover, the mTP process is expected to reduce manufacturing costs and enable thinner, smaller footprint and higher-density chip designs. These attributes are powerful benefits for use in consumer and medtech devices and could facilitate the integration of Rockley's biosensing technology into future tiny wearables.