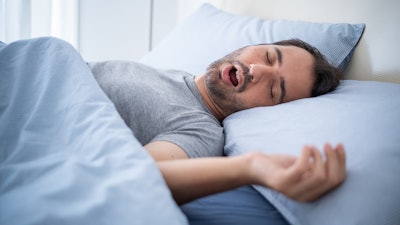 iStock
Acurable today announced an €11 million ($10.8 million) investment as a result of its Series A funding round. These funds will be used to accelerate the international expansion of its first product AcuPebble SA100 and drive the company towards its ambition to become the preferred solution for home sleep testing worldwide.
The investment was led by Kibo Ventures, along with Mundi Ventures, Kindred Capital, and Comprador Holdings among others.
Acurable's first product AcuPebble SA100 simplifies obstructive sleep apnea (OSA) detection and monitoring by enabling fully automated testing of patients at home. After launching AcuPebble SA100 in the UK and Spain in 2021, Acurable is now looking to scale up in these two countries and expand into further European markets and North America.
The AcuPebble SA100 wearable medical device has obtained a CE mark in Europe for the automated diagnosis of obstructive sleep apnea at home, and has received FDA 510(k) clearance in the U.S. The company said it is also the first device in the world that achieves the accuracy in likelihood ratios required by the U.S. Agency for Healthcare Research and Quality (AHRQ) to consider a diagnostic method equivalent to the gold standard.
This funding follows the recent announcement of a strategic distribution agreement with Nyxoah to provide the AcuPebble SA100 home sleep test to the German market.