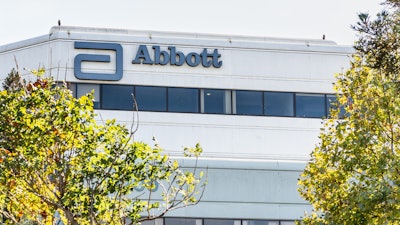 iStock
A new study published in The New England Journal of Medicine finds that for adults with Type 1 diabetes and sub-optimal glycemic control, Abbott's FreeStyle Libre 2 glucose monitoring system provided significant reductions in glycated hemoglobin (HbA1c) compared to self-monitoring of blood glucose (SMBG), which were sustained for the study duration of 24 weeks.1 Use of the FreeStyle Libre 2 system was also linked to improvements in participant-reported quality of life outcomes, including overall satisfaction and reduction in burden associated with glucose monitoring.
After six months, people who used the FreeStyle Libre 2 system reduced their HbA1c levels by an average of 0.8% (8.7% to 7.9%). Lowering HbA1c by this amount can decrease the risk of developing diabetes complication in the future. In comparison, people using SMBG reduced their HbA1c levels by an average of only 0.2% (8.5% to 8.3%).
"Continuous glucose monitoring has been a critical tool for people living with diabetes, both to avoid painful fingersticks and to help manage glucose levels," said study author Dr. Lalantha Leelarathna from the University of Manchester NHS Foundation Trust. "This data adds to the growing body of evidence that demonstrates the technology helps bring HbA1c levels closer to the target range, which ultimately decreases risks of further complications."
The trial included 156 people aged 16 years or older with Type 1 diabetes and HbA1c levels of 7.5% to 11%, none of whom had previously used continuous glucose sensing technology. For 24 weeks, half the participants were randomized to monitor their glucose with the FreeStyle Libre 2 system and the other half with SMBG.