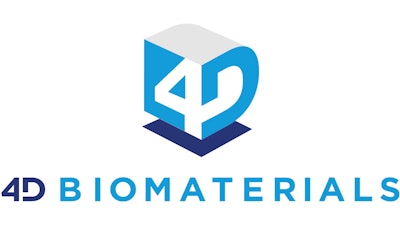 4D Biomaterials
4D Biomaterials announced the official launch of 4D Design, a range of services that will support medical device makers as they explore ways to deliver improved biodegradable medical devices using the company's proprietary 4Degra photocurable polycarbonate urethane polymer.
4D Design brings together a dedicated team of mechanical, design and bioengineering experts with access to 3D CAD, simulation and analysis software, alongside macro and micro scale 3D printing hardware. The services include product requirements development, design optimization with degradation modeling, prototype performance testing and manufacturing transfer support. By partnering with 4D Biomaterials to access these services, customers can accelerate the development of 4Degra-based products, with projects progressing from initial ideation to prototyping within weeks.
Headquartered in Nottingham, UK, 4D Biomaterials is commercializing a portfolio of degradable medical polymers based on proprietary photocurable polycarbonate urethane chemistry. These materials, marketed under the brand name 4Degra can be processed using various photocurable additive manufacturing technologies at the nano, micro and macro scale.