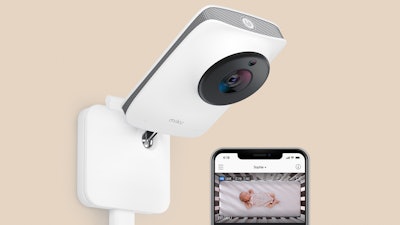 Miku
Miku Care introduced its newest offering, Care+, featuring a dashboard designed to keep parents notified of important changes in their child's wellness.
The in-app software add-on uses trend graphs and trend notifications to help parents easily view and stay aware of changes in their child's unique sleep and breathing patterns, which are key indicators of overall well-being. With a better understanding of the factors that impact a child's sleep and wellness, parents can adjust daily habits, nightly routines and discuss inconsistencies with providers.
Care+ is designed to be used with the company's Miku monitors. The latest version is the Miku Pro Smart Baby Monitor that doesn't require any wearable devices thanks to its proprietary SensorFusion® technology. As the monitor collects the data, Care+ analyzes and presents it in a digestible format for the user to view within the Miku App.
Care+ features include:
Trend Notification: Care+ notifies you when there are statistically important changes to your child's health trends
Breathing & Sleep Trends: Easily view your child's breathing & sleep trends and identify changes in their patterns over time
Expert Age-Related Articles: Sleep and development articles by pediatricians and sleep experts, specific to your baby's age
Daily Tracker: Easily track height, weight, feedings, diaper changes, and temperature readings
Extended Video Storage: With your Care+ subscription, choose from 30-Day or unlimited activity video storage
Care+ works with all versions of the Miku monitor. All previously available Miku monitor features remain free. Care+ is offered in two tiers: Care+ 30 with 30 days' extended video storage at $9.99/month or $99/year, and Care+ Unlimited which includes unlimited video storage and is offered for $19.99/month or $199/year.