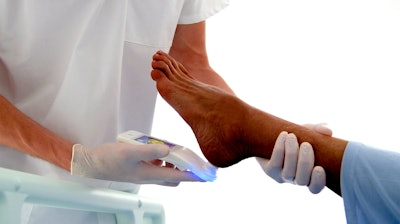 Bruin Biometrics
Bruin Biometrics' Provizio SEM Scanner Sensor for pressure injury risk detection has been made available free at the point of care to all community patients in England, Wales, Scotland, and Northern Ireland; a covered population exceeding one million at-home patients.
Between August and October 2022, respective Drug Tariffs listed the Provizio SEM Scanner Sensor under a newly created category of devices. The England and Wales Drug Tariff, largest of the listings in the U.K., is produced monthly by the Pharmaceutical Directorate of the NHS Business Services Authority (NHSBSA) for the Secretary of State. NHSBSA reviewed three inclusion criteria in their listing process: a.) safety and quality; b.) appropriateness and relevance for prescription by appropriate practitioners; and c.) cost effectiveness. The resulting listing provides information on what will be paid to contractors for NHS Services including both reimbursement (e.g., the cost of drugs and appliances supplied against an NHS Prescription form) and remuneration (e.g., professional fees/allowances which are paid as part of the NHS pharmacy contract). Provizio SEM Scanner Sensor is the first "pressure injury prevention sensor" ever to be listed on the Drug Tariff.
"The listing of our Provizio SEM Scanner Sensor to the Drug Tariff is unprecedented in the National Health Systems of the U.K. Since 2015, Bruin Biometrics has collaborated with acute and community practitioners across the U.K. to prevent pressure injuries in all care settings. This listing makes prescription of single-use sensors free at the point of care for community-based patients with costs being paid for centrally rather than from local provider budgets. Bruin Biometrics' ambition of preventing pressure injuries through a modernized care pathway is greatly facilitated by making this technology freely available and affordable for any patient who needs it," commented Martin Burns, CEO of Bruin Biometrics.