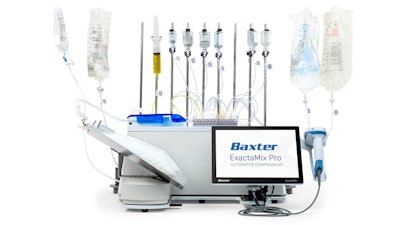 Baxter
Baxter International announced the launch of the ExactaMix Pro Automated Compounder, which is expected to be available to customers in the United States in early 2023.
Compounding refers to the process of combining or mixing ingredients to create a medication tailored to the needs of an individual patient. As a provider of parenteral nutrition compounding systems, Baxter provides advanced compounding technologies that help support formulation accuracy, process efficiency and patient safety. ExactaMix Pro builds on the company's ExactaMix Compounding System, Baxter's automated nutrition compounder that has been used in more than 1,000 pharmacies and compounding centers and has compounded more than 100 million bags across the world since its introduction. To date, ExactaMix Pro is the first and only automated compounder certified to the U.S. Food and Drug Administration (FDA)-recognized UL 2900-2-1 cybersecurity standard.
"ExactaMix Pro combines enhanced security with more intuitive and efficient features and greater processing power as compared to ExactaMix," said Jorge Vasseur, general manager, Clinical Nutrition at Baxter. "The result is an automated compounder that helps simplify common pharmacy tasks, offers stronger data reporting capabilities and delivers a better overall customer experience."
To help defend against cyber threats, ExactaMix Pro is designed to communicate with file servers using validated digital security certificates. Doing so creates a more secure connection and encrypts data in transit and at rest to help safeguard the device. ExactaMix Pro also runs on a customized version of Linux that incorporates secure boot.
ExactaMix Pro is designed with features that support additional convenience and ease of use. The improved responsiveness of the ExactaMix Pro touchscreen allows it to be used even when double-gloved, and a low battery warning enables timely battery replacement to help avoid disruption to operations. ExactaMix Pro also supports trend analysis with the ability to store up to 15 months of data −­ 10 times that of ExactaMix. Other features include wireless capabilities to simplify device installation and file-sharing, reducing the need for Baxter onsite servicing and downtime.