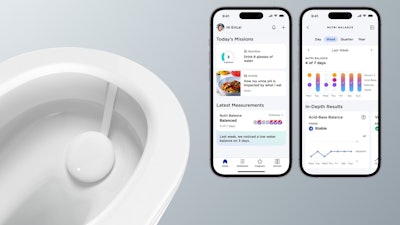 Withings
Following four years of development, Withings annouced U-Scan, a in-home biomarker analysis platform. It's a miniaturized health lab that hygienically sits within any toilet bowl to unlock the health information in daily urine.
With more than 3000 metabolites, urine is a witness to assess and monitor one's health. It gives an immediate snapshot of the body's balance and is integral in monitoring and detecting a large variety of health information. While we urinate on average 7 times a day, urine analyses are usually performed only once a year. Withings U-Scan aims to change that by making it possible in the future to conduct biomarker assessments from the comfort and privacy of a person's own bathroom.
U-Scan is designed to be a versatile platform consisting of a technologically advanced pebble-shaped reader and changeable analysis cartridges designed to assess specific biomarkers without the need for external sample capture or strips. Then, with seamless sync to the Withings Health Mate app, it will provide a wealth of actionable insights based on daily readings.
It will debut in Europe with two consumer health cartridges with medical versions following in the future. These include U-Scan Cycle Sync for women's monthly cycle tracking and syncing and U-Scan Nutri Balance, a detailed metabolic guide to hydration and nutrition. Withings U-Scan is in development in the U.S. and will not be available until it receives FDA clearance.
In addition, Withings Health Solutions, the company's business to business division serving the healthcare provider market, is making the technology available to partners for research purposes.
U-Scan Nutri Balance is under development in the USA; its features will be announced when the solution becomes available following FDA marketing clearance in the future. U-Scan will first be available in Europe from the second quarter of 2023 with consumer cartridges Nutri Balance and Cycle Sync. Users will be able to buy U-Scan starter kit for €499.95 to get one U-Scan reader and one cartridge providing three months of testing; then they will be able to subscribe to an automatic refill or buy a standalone cartridge on withings.com. Future medical cartridges of U-Scan will be available pending regulatory approvals in Europe. U-Scan is not for sale in the United States but is in development and plans to be available in the future following FDA clearance.