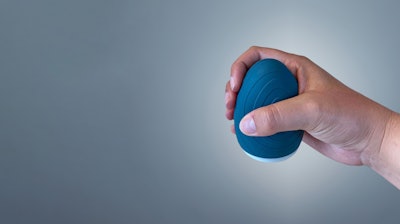 MindMaze
MindMaze, a company specializing in the development of AI-driven digital neurotherapeutics, announced the U.S. and EU launch of Izar 1, an FDA-listed and CE-marked smart peripheral for patients with impairment in hand motor function.
Izar is designed to fill a gap in neurological care today and aims to be the most effective hand dexterity and strength treatment in a wide range of neurological conditions. This proprietary peripheral is a significant step forward in MindMaze's efforts to deliver more effective patient care through combinations of smart peripherals with its growing portfolio of Digital Care and Digital Medicine solutions. Izar is part of a comprehensive omnisite approach to the treatment and maintenance of neurological diseases, including Stroke, Parkinson's disease, Alzheimer's disease, and Traumatic Brain Injury (TBI), among others.
Izar is a controller built to train and assess both dexterity and strength, through capture of the fine grasp forces and wrist movements required to carry out activities of daily living. Izar can detect sub-newton level patient finger and hand forces, enabling treatment in the most impaired patient populations. This simple and highly portable controller is accompanied by proprietary and engaging gaming content that allows patients to self-train, either in-clinic, at bedside, or in the comfort of their home, dramatically enhancing and expanding training opportunities.
Leading global centers such as Shirley Ryan Ability Lab in the US, University College London in the United Kingdom, and The University of Aukland in New Zealand are already actively using Izar in pioneering clinical research. Izar was subjected to rigorous pre-launch testing across nine sites and delivered over 250 hours of active supervised and self-training therapy time in 250 patients, receiving unanimously positive feedback.
Izar is available today in the U.S. as well as European countries including France, Switzerland and Germany with content that enables training of dexterous grasp, pinch and grip. Future software content will unlock training content for wrist, bilateral movements, combination movements of the upper-limb and hand, as well as dexterity assessments for hand and wrist.