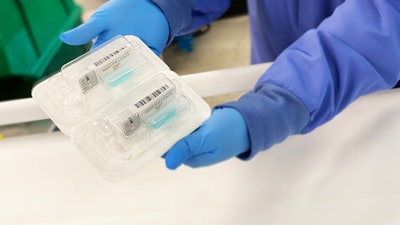 Spectrum Solutions
Spectrum Solutions today announced the U.S. Food and Drug Administration (FDA) has granted 510(k) Class II clearance to the SDNA Saliva Collection Device as a microbial nucleic acid storage and stabilization device.
The SDNA device is driving a new era of healthcare that turns to salivary collection and preservation as a means to detect viral infections and resolve the most common points of failure associated with whole saliva. The device can maximize detection at the lowest levels and neutralize viruses within 10-seconds of collection to mitigate unnecessary viral exposure. The company's patented preservation media keeps analytes stable for many weeks at ambient temperatures, ensuring safe, easy, and secure specimen storage and transport. To ensure the highest degree of stringency and quality, automated methods for extraction and validation were performed on industry-leading platforms.
Near the beginning of the pandemic, Spectrum's SDNA-1000 was the first to gain FDA Emergency Use Authorization (EUA) and introduce a nation, held under viral siege, to the noninvasive, highly accurate, and earliest detection benefits of COVID-19 testing using the self-collection of saliva. With over two years of processing SARS-CoV-2 saliva tests, the device and its patented nucleic acid preservation chemistry have not only demonstrated but proven their unique and superior capabilities deserving of this new device clearance.