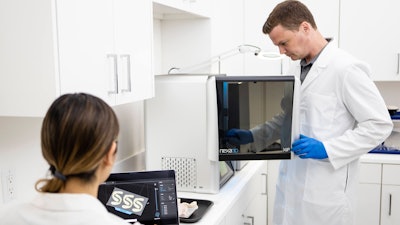 Nexa3D
Nexa3D, the ultrafast polymer 3D printing leader, continues to advance its digital dentistry portfolio with the release of two new dental resins and dental workflow at this week's Lab Day 2023 in Chicago, Illinois. The two new resins join a portfolio of eight validated dental resins bringing the total number to 10, further breaking dental 3D printing productivity barriers by increasing production throughput by as much as 50 percent.
xDENT201 is the fastest printing modeling resin designed for ultrafast production of orthodontic models, yielding up to 10 flat models in just 20 minutes. Showcasing excellent accuracy yield at over 93% at 100 micron deviation, coupled with great dimensional stability, xDENT201 is the clear choice for printing higher volume models for aligner manufacturing or orthodontic modeling needs. This matte gray resin also provides excellent visibility and fine feature details at an economical price, making it a great choice for scaled additive production of dental models. Watch the product video.
xDENT341 is a high-resolution material designed for 3D printing removable die models with incredible accuracy and dimensional stability. A new level of precision with 93% dimensional accuracy at 50 micron deviation places the material well above the standard dental industry accuracy rate of 65%. Proper fit is paramount for removable die models and xDENT341 exhibits precise margins and contacts, delivering highly accurate custom prosthodontic treatments, such as crowns, bridges, and other implants at incredible speed.
Both resins further push the production limits of dental 3D printing by reducing production time by as much as 38% and dramatically increasing the throughput on both the XiP desktop 3D printer as well as the NXD 200Pro platform.
"We think dental 3D printing applications warrant – and quite frankly deserve – a higher level of throughput and more favorable production economics. This is exactly why our material development team, along with our material partners, continue to push the limits of what is possible when it comes to both print speed and dimensional accuracy of 3D printed models," said Avi Reichental, Nexa3D Co-founder and Chief Executive Officer. "We couldn't be more excited to bring these two new dental resins to market because we believe they will have a dramatic impact on the productivity of dental labs as well as deliver better patient outcomes."
NexaX Dental Workflow
The NexaX Dental Workflow is Nexa3D's new software module aimed at maximizing productivity for dental laboratories, starting with orthodontic and removable die applications. The new dental workflow enables users to spend less time prepping and more time printing. The new features include streamlined and automated file import, orientation, and toolset selection for file repair, plane cutting, and base extrusion. Additionally, the NexaX Dental Workflow optimizes model nesting across multiple builds, enabling the creation of an entire day's worth of print jobs through an intuitive and easy-to-use platform.