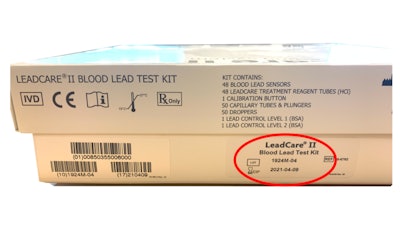 Magellan Diagnostics
BOSTON (AP) — Three former executives of a company that makes machines that test lead levels in humans deliberately concealed a problem with the devices that produced falsely low results for tens of thousands of children, federal prosecutors in Boston said Wednesday.
The children, as well as pregnant people and others, faced serious health risks because of the inaccurate test results, prosecutors said.
Amy Winslow, Reba Daoust, and Mohammad Hossein Maleknia — all former executives at Magellan Diagnostics Inc. — were charged with conspiracy to commit wire fraud, wire fraud, conspiracy to defraud an agency of the U.S., and introduction of misbranded medical devices into interstate commerce with intent to defraud and mislead, according to the U.S. attorney's office in Boston.
Winslow, 51, of Needham, is the former CEO; Maleknia, 64, of Bonita Springs, Florida, is the former chief operating officer; and Daoust, 66, of Amesbury, is the former director of Quality Assurance and Regulatory Affairs.
"We allege that these defendants deceived customers and the FDA about the reliability of medical tests that detected lead levels," U.S. Attorney Rachael Rollins said in a statement. "By doing so, we assert that they endangered the health and lives of incredibly vulnerable victims."
According to the Centers for Disease Control and Prevention, there is no safe level of lead in the blood, Rollins said.
Children can be exposed to lead through old paint, contaminated dust and drinking water that passes through lead pipes. The metal accumulates in the body, and at high levels, it can damage organs and cause seizures. Even at lower levels, it can harm brain development and lead to attention and behavior problems.
BJ Trach, an attorney for Winslow, called the charges "misguided."
"She did not commit any crimes, and this prosecution, inexplicably initiated so many years after the events at issue, should never have been brought," he said in a statement. "We look forward to Amy having her day in court, and we are confident she will be vindicated."
He called her an effective leader through difficult times who left the company amicably five years ago.
An email was left with an attorney for Daoust. No attorney was listed for Maleknia in court records.
The devices in question, marketed under the names LeadCare Ultra, LeadCare II and LeadCare Plus, tested lead levels through blood draws or fingersticks and accounted for more than half of all blood lead tests conducted in the U.S. from 2013 through 2017, prosecutors said.
The three former executives knew of the problem as far back as 2013 but released the products to the market without informing customers or the FDA, prosecutors said.
"We believe these executives knew about this malfunction for years but failed to come clean to their customers and the FDA about it in order to boost their company's bottom line," said Joseph Bonavolonta, head of the FBI's Boston office.
One reason was because Winslow and Maleknia thought a possible sale of Magellan would be jeopardized if the malfunction were known, prosecutors said. Magellan, based in Billerica, Massachusetts, was acquired by Meridian Bioscience Inc. for $66 million in 2016, and only then did the defendants notify customers and the FDA about the problem, prosecutors said.
Winslow received a bonus of approximately $2 million, and Maleknia received a bonus of about $448,000 from the sale.
The FDA issued a recall of the faulty products.
Cincinnati-based Meridian in a statement Wednesday said it has cooperated with investigators, is involved in settlement discussions with the Justice Department and that the company itself has not been charged.
The company's current line of LeadCare products have been cleared by the FDA and remain available for clinical use, the company said.