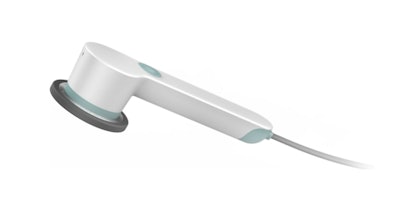 Medaica
Medaica, a digital health company extending the capability of home diagnostics, today announced that the U.S. Food and Drug Administration (FDA)-cleared Medaica M1 Telehealth Stethoscope (M1) will be free of charge, starting with qualifying strategic partners supporting rural or underserved patients with chronic heart and/or lung conditions.
Medaica said it is the first company to provide a free FDA-cleared digital stethoscope for in-home use. The M1 stethoscope has been designed with a focus on being patient-centric, affordable, and interoperable. Most existing digital stethoscopes are designed for clinicians, not patients, and are proprietary, so do not work with existing telehealth systems.
"By making the Medica M1 Telehealth Stethoscope free for rural and underserved patients, we aim to accelerate awareness of and access to more a compelling remote healthcare option for those who need it the most," said Stephen Randall, CEO of Medaica. "We believe that telehealth's ultimate potential will be realized when millions of patients can be examined as effectively on-line as they can in clinic. Consumerizing the stethoscope is the first step in making that a reality, while reducing the burden of understaffed clinics."
Nearly 80% of rural America is medically underserved. With fewer than 40 physicians per 100,000 people, a problem that is getting worse every year as the population gets older and more healthcare workers leave the profession.
Physician demand continues to outstrip supply, leading to a projected shortage of between 37,800 and 124,000 physicians by 2034 with the most alarming gaps in primary care and rural communities, according to the Association of American Medical Colleges.
Dr. Jennifer Peña, former White House physician under both the Obama and Trump administrations and member of the American Telemedicine Association's Advisory Group to Eliminate Healthcare Disparities and Inequalities, who recently joined Medaica as its Chief Medical Officer commented, "Prior to the Medaica M1 Telehealth Stethoscope, the ability to auscultate a patient using telehealth was expensive and complicated. Giving patients a simple and free FDA-cleared stethoscope for remote telehealth exams is a game changer, especially for the many who can't so easily travel to the clinic."
The Medaica M1 Telehealth Stethoscope is bundled with Medaica Telehealth+, a complete digital diagnostics and telehealth solution for providers. For interoperability with existing telehealth systems, M1 can be used without requiring any specific customization or integration.