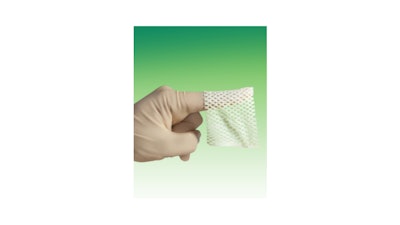 MTF Biologics
MTF Biologics introduced AlloPatch Pliable Meshed to its line of wound care solutions. AlloPatch Pliable Meshed is an acellular human reticular dermal allograft designed to help heal difficult to treat wounds including diabetic foot ulcers and venous leg ulcers.
"We are delighted to add to our wound care portfolio to continue to collaborate with healthcare providers to expand treatment solutions for patients," said Marc Long, Ph.D., executive vice president of research and development at MTF Biologics. "We understand the difficulties of treating high risk patients with chronic, non-healing wounds, and our comprehensive portfolio of dermal, placental and adipose tissues empower clinicians to treat a variety of patients."
Every year millions of Americans are impacted by diabetic foot ulcers and venous leg ulcers. These wounds can be very difficult to heal, making them costly and complex to treat. In the United States alone, diabetic foot ulcers and venous leg ulcers represent an annual economic burden of more than $25 billion in treatment costs.
AlloPatch Pliable Meshed has fundamental characteristics that make it ideal for the treatment of diabetic foot ulcers and venous leg ulcers. Featuring a unique meshed design that allows for optimal drainage and incorporation, AlloPatch® Pliable Meshed is the only aseptically processed meshed reticular dermal tissue that can be used in both the acute and post-acute settings. The allograft conforms to wound topography for immediate coverage and can expand up to 170% of its original size to accommodate a variety of wound sizes. It provides a scaffold for wound closure that allows a patient's own cells to proliferate and repopulate the graft to facilitate integration. It also offers structural coverage that supports early re-epithelialization without the need for substantial granulation tissue formation by the host first, which helps to ensure effective healing.