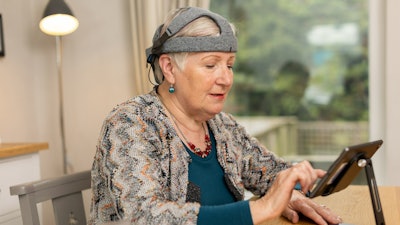 Cumulus Neuroscience
Cumulus Neuroscience today announced that its dry-sensor EEG headset has been granted 510(k) clearance from the FDA. This represents the second medical device clearance for the headset, which previously received the UK Conformity Assessed (UKCA) mark in the United Kingdom.
Designed for self-directed use in a patient's home or a healthcare facility, the Cumulus EEG device is now FDA-cleared for use by adult and adolescent patients for the remote acquisition, display, and storage of electroencephalograph (EEG) data. The headset is available in four sizes, and is easily self-applied in less than five minutes with guidance from the Cumulus mobile app – eliminating the need for EEG technician or healthcare professional support. This groundbreaking technology provides a means to initiate clinical studies remotely with data transmitted to the Cumulus Medical Device Hub, allowing healthcare professionals to review EEG recordings in real-time.
The company's 510(k) clearance comes on the heels of its appointment of Tina Sampath as Chief Commercial Officer (CCO). An award-winning marketing executive with a proven track record of creating growth and profitability through data-driven, integrated, cross-channel marketing strategies, Sampath brings more than 23 years of commercial leadership experience at well-known biopharma, diagnostic and med tech companies, including Gilead Sciences (via $1.4B acquisition of CV Therapeutics 2009), Pfizer (via $14B acquisition of Medivation in 2016) and AliveCor. Sampath was also essential in the Bracco Imaging acquisition of Blue Earth Diagnostics for $450M in 2019. With new and growing biopharma collaborations underway, the establishment of offices in the Boston area at the new Cambridge Innovation Center (CIC), and now, FDA clearance for the Cumulus Platform, Sampath is charged with driving commercial growth, while overseeing strategic partnerships, marketing operations and corporate communications.