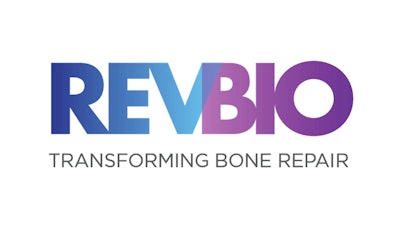 RevBio
RevBio, Inc., announced that it has been awarded a $2 million Phase II Small Business Innovation Research (SBIR) grant from the National Institute of Dental and Craniofacial Research (NIDCR), part of the National Institutes of Health (NIH). This funding will allow the company to complete the pre-clinical research necessary to advance this product into the clinical stage of development.
"We have optimized the TETRANITE bone adhesive technology to accelerate the substitution of the biomaterial with new bone through key engineering and manufacturing innovations which significantly increase the porosity of the material," said Rahul Jadia, PhD, RevBio's R&D Manager of Technology Development, who has led the development of this novel adhesive bone scaffold product. "This grant will allow the company to conduct a pivotal animal study necessary to demonstrate safety and efficacy of the product and to file an Investigational Device Exemption (IDE) application with the FDA next year to start a clinical trial."
Research shows that 44% of all patients who receive a dental implant have a missing tooth when they start treatment with varying degrees of bone loss depending on how long the tooth had been missing. These patients must undergo a ridge augmentation procedure in which various bone graft materials are placed using additional fixation and containment devices to protect the graft during the healing process. These procedures increase the width and height of the residual jawbone to replace atrophied bone so that a dental implant can be successfully placed. In over 30% of these cases, however, existing bone graft materials fail to achieve the desired clinical results, and another bone graft procedure must be conducted, increasing the overall time and cost of treatment. This product compliments RevBio's existing clinical program to treat the larger population of patients who need an immediate dental implant following tooth extraction.
This grant significantly enhances prior funding awarded to RevBio by the Michigan-Pittsburgh-Wyss Regenerative Medicine Resource Center which is a research consortium funded by the National Institute of Dental and Cranial Research to improve the translation of promising tissue engineering and regenerative medicine technologies for dental, oral, and craniofacial clinical practice.
"This enhanced adhesive formulation of TETRANITE resorbs and is replaced by bone on a timescale similar to existing graft materials but, unlike those existing materials, it does not require ancillary containment devices like membranes or meshes or fixation aids like tacks and screws," said Joseph P. Fiorellini, DMD, DMSc, Professor at the University of Pennsylvania School of Dental Medicine and Chair of RevBio's Dental Scientific Advisory Board. "The clinical use of this material will reduce the time and complexity of ridge augmentation procedures and likely lead to more consistent results with better volume maintenance of these grafts."