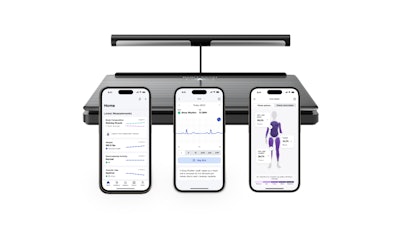 Withings
Withings announced that its Body Scan Connected Health Station has received FDA clearance, via Withings Scan Monitor 2.0 and will be available this fall in the U.S. priced at $399.95. The company said Body Scan with Withings Scan Monitor 2.0 is the world's first health station to receive FDA clearance for the detection of atrial fibrillation through the acquisition of a 6-Lead ECG.
Body Scan provides daily analysis of biomarkers associated with common health conditions. With the ability to monitor segmental body composition, heart rate, and vascular age, it further advances the smart scale category. It consists of a single high strength tempered glass platform with an integrated retractable handle.
Body Scan contains four weight sensors and 14 ITO electrodes within the platform and four stainless steel electrodes in the handle for 6-lead ECG and segmental body composition analysis. It features a long-life rechargeable battery that offers 12 months of use and includes a large high resolution 3.2" LCD color screen that displays stats.
Body Scan will provide a precise (accurate to 0.1lbs / 50 grams) weight management experience thanks to its advanced weight sensors and unique retractable handle form factor. For the first time, a Withings scale integrates the breakthrough technology of segmental body composition allowing a never-seen level of precision for body composition monitoring.
Body Scan will also be able to measure Basal Metabolic Rate (BMR). BMR is the number of calories the body burns at rest, and it provides valuable information about the user's overall metabolic health. By measuring BMR, users can better understand their overall health and make informed decisions about their diet and exercise. The connected health station also uses this to calculate metabolic age, comparing how many calories a body burns at rest with others in an age group.
With electrodes placed in the base of the device and in the handle, Body Scan uses multi-frequency Bioelectrical Impedance Analysis (BIA) to measure overall body composition. It measures whole-body fat and water percentage, visceral fat, muscle and bone mass and provides readings for individual body parts, including torso, arms, and legs. A very low level, safe electrical signal is sent from the electrodes on the scale and within the handgrip. Withings' scientifically developed algorithm identifies resistance, known as impedance, to measure precise body composition in less than three seconds.