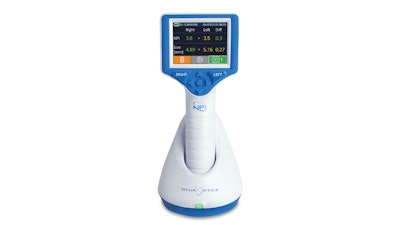 NeurOptics
A new prospective, multicenter study, recently published in The Lancet Neurology has revealed the significant prognostic value of the Neurological Pupil index (NPi), measured using the NeurOptics NPi Pupillometer, in evaluating disease progression and predicting outcomes for patients with acute brain injury.
This international study, coordinated by the Milano Bicocca University, enrolled 514 patients diagnosed with traumatic brain injury (TBI), aneurysmal subarachnoid hemorrhage (aSAH), or intracerebral hemorrhage (ICH), admitted to the intensive care units of 13 hospitals across Belgium, France, Germany, Norway, Switzerland, Spain, Italy, and the USA. The primary aim of the study was to investigate the association between NPi and 6-month neurological outcomes and mortality. Patients' NPi scores were measured using NeurOptics' NPi Pupillometer every four hours during the initial seven days of admission.
Results demonstrated the clinical and statistical significance of NPi, providing insights into neurological outcomes and 6-month mortality rates. These findings mark a significant step forward in standardizing the use of the NPi Pupillometer.
The NeurOptics NPi Pupillometer has emerged as a crucial technology, providing a quantitative measurement of pupil size and reactivity, denoted by the Neurological Pupil Index (NPi). NPi values range from 0 to 4.9, with scores below 3 indicating abnormalities. The NeurOptics NPi Pupillometer minimizes the subjectivity inherent in manual pupillary evaluations, offering a more precise, reliable, and objective measurement of pupil size and reactivity, essential components of neurological examinations. The presence of an abnormal NPi value holds significant implications for clinicians managing critically ill patients with brain injuries or those at risk of secondary neurological damage.
NeurOptics' quantitative automated NPi Pupillometer provides a reliable measurement of pupil size and reactivity and tracks changes over time, allowing for earlier intervention for patients with brain injury and those at risk of secondary neurological injury. The NPi Pupillometer supports neurological examination in adult and pediatric patients across a broad spectrum of diagnoses, including traumatic brain injury, stroke, seizure, or other neurological events after cardiac arrest and other medical conditions.
The study, titled "The Neurological Pupil Index for Outcome Prognostication in People with Acute Brain Injury (ORANGE): A Prospective, Observational, Multicenter Cohort Study," is accessible here.