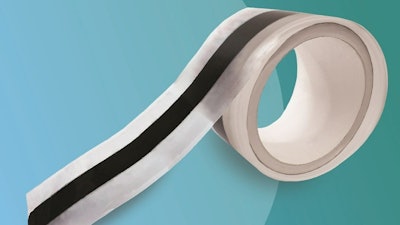 DuPont
DuPont today announced that it is introducing DuPont Liveo Soft Skin Conductive Tape 1-3150 – a silicone-based thermoset adhesive for electrical biosignal sensing and transfer.
Combining the key benefits of silicone technology with electrically conductive properties, Liveo Soft Skin Conductive Tape technology is intended for use as a skin dry electrode in biosignal monitoring applications to enable long-term patient monitoring with stable data quality and high patient comfort.
The new conductive tape is intended to be used as a skin interface for electric biosignal monitoring that requires good skin conformability, no drying over time, and repositionability with gentle adhesion and atraumatic removal. It can be used in single electrodes for short-term monitoring and is best suited in medical wearable patches for long-term monitoring lasting seven or more days.
DuPont offers a broad portfolio of high-performance, medical-grade elastomers, adhesives, resins and thermoplastics designed to meet the rigorous requirements of wearable medical devices. The company also provides support in the areas of materials research, application development, technology, safety and regulatory compliance.
Dedicated Liveo research teams collaborate with manufacturers worldwide to create solutions across a vast array of medical applications – including smart devices that share data between patients and doctors, empowering patients with greater independence.