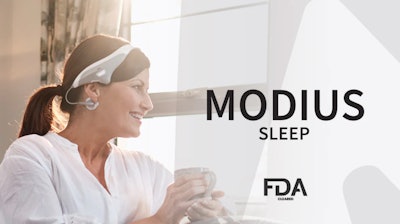 Neurovalens
Neurovalens has received medical device clearance from the US Food & Drug Administration (FDA) to treat chronic insomnia with its Modius Sleep device.
Based in Belfast, Neurovalens is a health-tech company that specializes in combining neuroscience and technology to tackle a range of global health challenges.
The company's medical devices have been designed to deliver non-invasive electrical stimulation to key areas of the brain and nervous system without the need for surgically implanted electrodes.
Modius Sleep is designed to improve insomnia by delivering a small and safe electrical pulse to the head for a period of 30 minutes before bed, during which users can do other activities, such as watching TV or reading.
The FDA regulates the development, manufacturing, authorization, distribution and sale of medical devices in the US across multiple product categories. Achieving regulatory approval via FDA 510(k) clearance means the Modius Sleep device can now be sold directly to people suffering from chronic insomnia across the US who have a prescription from their doctor.
The decision by the FDA was secured following a robust Phase III / Pivotal clinical trial carried out in the UK and Ireland by Ulster University and in Hong Kong by PolyU University. Neurovalens now plans to enter discussions with insurance providers to achieve reimbursement status, so patients can access the treatment on their medical insurance.
The company continues to run clinical trials on the effectiveness of its drug-free technology in treating other conditions and has approvals pending for the treatment of anxiety and obesity.
Last year Neurovalens took part in the MedTech Innovator competition, a globally renowned accelerator programme and showcase for innovative medical device, digital health and diagnostic start-ups.
To date, Neurovalens has raised around £11m in equity funding from UK investors including Wharton Asset Management, IQ Capital, Techstart Ventures, Angel Co Fund, Beltrae Partners, Clarendon Fund Management and British Business Bank. A Series B funding round is being planned for 2024.