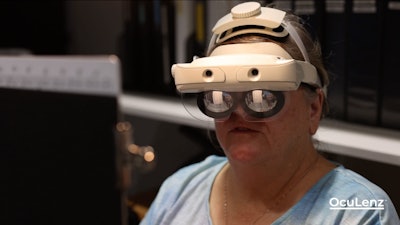 Ocutrx
Ocutrx Technologies today unveiled OcuLenz, its AR/XR headset designed to enhance visual clarity for individuals living with advanced macular degeneration (AMD).
This AR/XR headset is designed to be lightweight and user-friendly. It enhances vision by overlaying high-contrast, pixel-manipulated images onto the user's remaining viable field of view. This technological advancement is particularly significant given the prevalence of advanced age-related macular degeneration – the leading cause of vision loss in adults over the age of 65.
OcuLenz stands apart from traditional magnification aids, transforming the landscape of visual assistance for AMD patients through its advanced pixel manipulation software. The system processes real-world video imagery and then recreates it as an augmented reality display tailored to the user's remaining good vision. By shifting pixels from the impaired central vision area to the more effective peripheral vision, OcuLenz compensates for the central vision loss characteristic of AMD. Its high-end optical engine delivers 2.5K resolution per eye and boasts a wide field of view — 60 degrees horizontally, 40 degrees vertically, and 72 degrees diagonally — significantly surpassing the capabilities of typical AR headsets. This seamless integration of virtual and real-world elements creates a fully immersive and practical visual experience for the user.
The OcuLenz headset allows users to move freely and perform everyday tasks while wearing it. Its power comes from a Qualcomm Snapdragon® XR2 processor, which guarantees speed, efficiency, and reliability. Additionally, with Wi-Fi and cellular connectivity, OcuLenz doubles as a versatile connectivity tool akin to a computer, tablet, or smartphone. This unique blend of technology not only enhances visual perception but also enriches the user's interaction with their environment, making it a groundbreaking tool in vision aid technology.
OcuLenz is set for commercial release in the first half of 2024, with Ocutrx actively working to secure coverage from Medicare and commercial insurance providers.