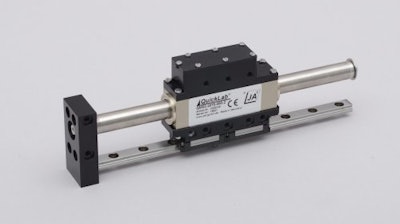 Faulhaber
Designed as a modular system, the miniaturized linear motor axes and modules for single- or multi-axis applications are suitable for a range of tasks in laboratory automation and the pharmaceutical industry. They are powered by FAULHABER linear motors.
The engineers from Jung Antriebstechnik u. Automation GmbH JA² responded to calls from the pharmaceutical industry, the analysis sector and the medical technology industry for small but functional automation solutions with the development of a new modular mechatronic system called QuickLab.
With the small QM02 linear motor modules for up to 160 mm of stroke and the QA02 linear motor axes for strokes up to 220 mm, short-stroke applications can be realized with high dynamics and accuracy, e.g., in laboratory and analysis technology or in testing systems. Through the mechanical construction and precision guides in combination with two ball carriages, the modules and axes are very stiff and offer high repeatability during positioning of +/- 50 µm in spite of their lightweight construction and low moving mass.
Depending on the load, travel speeds up to 3 m/s and accelerations up to 50 m/s² are possible. The axes and modules can be individually combined with one another. In this way, pick-and-place applications can be realized as can automatic solutions for separating, grouping, testing or plating samples or other sensitive products.
With a width of 22 mm, QuickLab perfectly covers the need for miniaturized single- and multi-axis handling systems. Moreover, the appropriate accessories such as weight force compensation, magnetic holding brakes, external position sensors and adapter plates are offered.
The LM2070 linear motors are available with stroke lengths from 40 to 220 mm. The continuous force is 9.2 N, and up to 28 N of peak force is available. The plain bearing of the forcer rod handles speeds of up to 3 m/s. At the same time, the small powerhouse can be precisely controlled. Already with the integrated Hall sensors, the absolute positioning accuracy is +/- 0.1 mm and the repeatability is +/- 50 µm.
With an optional external sensor, these figures can be improved to +/- 0.01 mm and a repeatability of +/- 1 µm. On top of this comes practically maintenance-free operation as the motor has no moving wear parts. Moreover, the linear drive operates nearly noise-free. 
An important point for handling systems is the connection technology. The linear motors are normally delivered with a max. 30 cm long cable connection. In automation systems, however, the switch cabinet is usually some distance from the actual drive. The QuickLab modular system has a multi-shielded cable that transfers the motor power and the position sensor signal between motor and controller interference-free over up to 30 m. It is fastened with a cover directly to the motor with strain relief, can be plugged in and is also designed for use with cable chains, i.e., for mobile use. The single-cable technology simplifies installation thanks to the prefabrication of both ends.
For more information, visit https://www.faulhaber.com/en/markets/modular-mechatronic-system-quick-lab/