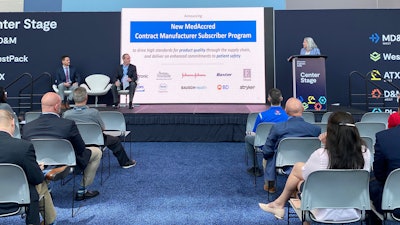 MedAccred
OEMs within the medical device industry have expanded the MedAccred program to benefit contract manufacturers and enable better oversight of their sub-tier suppliers.
This program was developed by medical device company MedAccred Subscribers Bausch Health, Baxter, BD, Boston Scientific, Edwards Lifesciences, Johnson & Johnson, Medtronic, Philips Healthcare, Roche Diagnostics and Stryker.
The contract manufacturer subscriber program will build upon the current MedAccred program and provide the rigorous oversight of critical manufacturing processes conducted by subject matter expert auditors around the globe. The manufacturing processes addressed by MedAccred continue to expand and currently include cable & wire harness, heat treating, printed board assembly, plastics extrusion, plastics injection molding, plastics mechanical assembly, sterilization, sterile device packaging, and welding.
Subscribing contract manufacturers will benefit in the following ways:
Reduced cost while delivering improved quality
Improved process control down the medical device supply tiers
Enhanced role as a strategic supplier with greater assurance of sub-tier supplier controls, contributing to improved product quality and patient safety.
"The creation of a new MedAccred Contract Manufacturer Subscriber program is an exciting development that is going to help contract manufacturers within the medical technology industry develop greater oversight and control across their supply chains. This innovation will go a long way towards supporting quality and patient safety across the medical industry," said Dannette Crooms, Vice President, Global Supplier Quality, Edwards Lifesciences.
"Contract manufacturers are now able to leverage the power and scope of MedAccred! This expanded MedAccred CM Subscriber program is being introduced by the leading OEMs within the medical device industry. The MedAccred deep-dive process audits and the resulting MedAccred accreditations will drive improvement in product quality and cost savings through the tiers in Contract Manufacturers' supply chains," said Tony Knight, Senior Director, Global Supplier Quality (CM/OEM), Medtronic.