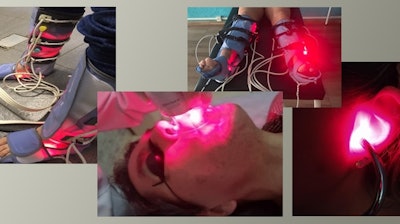 CEPOF
Light-based therapies such as photobiomodulation and photodynamics, combined with laser irradiation and negative pressure, have produced positive results in the rehabilitation of patients with post-COVID complications, including those with muscle, joint, neurological, skin and lung damage, according to an article published in Laser Physics Letters.
The research reported in the article was conducted in Brazil by groups at the Center for Research in Optics and Photonics (CEPOF) and the National Institute of Science and Technology (INCT) in Basic Optics and Optics Applied to Life Sciences. Both CEPOF and the INCT in Optics are led by Vanderlei Bagnato, a professor at the University of São Paulo's São Carlos Institute of Physics (IFSC-USP).
CEPOF is a Research, Innovation and Dissemination Center (RIDC) supported by FAPESP and hosted by the University of São Paulo (USP) in São Carlos.
The researchers' aims are to develop guidelines for building the infrastructure required to treat post-COVID complications, and establish new patient care protocols suited to multidisciplinary teams. In the Laser Physics Letters article, in particular, they discuss protocols for the care of patients who are confined to bed for long periods, require intubation, or have secondary respiratory tract infections such as bacterial pneumonia, all of which increase the risk of death.
"Post-COVID complications affect several parts of the body. Some are sensory [taste and smell alterations], muscular [fatigue], circulatory and inflammatory, especially in the respiratory system. Others are common to various infections, such as tinnitus [ringing or buzzing in the ears], and facial paresthesia [numbness and tingling], as well as sores in bedridden patients. We want to show how certain techniques can treat these symptoms," Bagnato told Agência FAPESP.
The other authors of the article include Cristina Kurachi and Sebastião Pratavieira, also professors at IFSC-USP; and postdocs Lucas Danilo Dias and Kate Cristina Blanco. Altogether, more than 20 professionals in different areas of healthcare and parts of São Paulo state participate in the research conducted by CEPOF.
Business-university partnership
According to Bagnato, the benefits of light-based therapies combined with hybrid regeneration techniques include an improvement in the auditory symptoms reported by many patients who have recovered from COVID-19.
"It's a combination of technologies involving more or less six devices to rehabilitate patients, one of which we've created to treat tinnitus, a problem that's increased considerably since the start of the pandemic. Research on this protocol is ongoing," he said.
Another significant advance, he added, is the creation of boots designed to improve circulation using laser irradiation. "Combined with photobiostimulation, these boots and other devices are producing excellent results even for people who haven't had COVID but feel pain when they practice sports. The boots are an innovative product developed in partnership with the business sector. A key benefit of this research is that it develops protocols and equipment for many different diseases and patients," he said.
Some products have been approved by ANVISA, Brazil's national health surveillance agency, and are embarking on the commercialization stage. Others are still in the research stage, with good results, such as those reported in the article. "The device that combines ultrasound and laser light is a worldwide innovation. We're getting inquiries from Europe and the US," Bagnato said.
Innovative technologies
"Our team has been working for quite a long time on hybrid regeneration techniques for chronic diseases and wounds that don't heal, for example. All the methodologies involve laser therapy combined with negative pressure [suction] and ultrasound," Bagnato said.
In photobiomodulation, light is used to stimulate the metabolism, contributing to cell proliferation, wound healing, and pain relief. The process is influenced by the wavelength and type of light, pulse structure, and timing. The article shows, for example, how near-infrared light (810-1064 nanometers) can activate light-sensitive ion channels in cells, boosting biochemical reactions to accelerate cell proliferation and migration, among other mechanisms.
Photodynamic therapy involves photosensitizing substances and a light source with the right wavelength, resulting in the production of reactive oxygen species, such as superoxide ions, hydrogen peroxide, hydroxyl radical and singlet oxygen, which inactivate pathogenic microorganisms.
With the advent of the COVID-19 pandemic, the methodologies were adapted. CEPOF coordinated the work of research groups in dentistry, physical therapy and biomedicine who already collaborated with University of São Paulo in São Carlos to develop novel technologies and protocols for the rehabilitation of patients in intensive care or suffering from post-COVID complications after being discharged from hospital.
Bagnato explained that the techniques developed by the group can help suppress the inflammatory response in the lungs, one of the most damaged organs in post-COVID syndromes. These non-invasive methods improve gas exchange, and relieve muscle pain and spasms in the chest.
"The anti-inflammatory power of infrared irradiation is an important part of this, but we're also developing photodynamics to treat pneumonia, especially the antibiotic-resistant kind," he said. "We've developed a technique whereby the patient inhales a drug, which is activated by extracorporeal light to eliminate bacterial colonies and treat an infection."
Next steps
A biophotonics rehabilitation center for post-COVID patients opened in São Carlos in 2021, and a consortium is setting up 20 other centers nationwide. An e-book outlining the protocols developed so far has been produced by MMO, a partner of the project, and can be downloaded free of charge here.
In São Carlos, the group continues to collect phototherapy data relating to patients treated at the biophotonics rehabilitation center, also observing its effects on Parkinson's, cancer and fibromyalgia, among other diseases.
"We don't yet know how long post-COVID complications will last or what proportion of the millions who have had the disease are affected. We're making observations and studying how we can help treat these complications in the medium to long term, in partnership with healthcare providers. Patients are constantly referred to us by clinics and outpatient departments in public and private health services. We've published a few articles, and there will be more," Bagnato said.