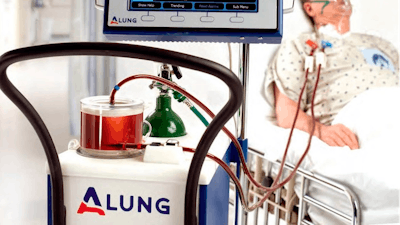 ALung Technologies
One of the University of Pittsburgh's most storied startups, ALung Technologies Inc., has achieved its highest business goal—acquisition by a major company. ALung is now part of LivaNova, a global medical technology company headquartered in London.
LivaNova was a minority investor in ALung for two years, and it purchased full equity in ALung in May 2022. The acquisition comes six months after ALung reached its highest scientific milestone—FDA approval for its artificial lung device.
The acquisition marks the end of the device's startup phase and the beginning of full-scale commercialization and implementation, says William Federspiel, John A. Swanson Professor of Bioengineering. He and his team invented the core technology for the device, known as the Hemolung Respiratory Assist System, as well as its preceding Hattler Catheter device, in his Pitt laboratory.
"My dream is to see several of these devices in ICUs in every hospital worldwide," said Federspiel, noting that the Hemolung could help hundreds of thousands of patients to breathe every year. LivaNova is poised to make his dream a reality, he says, because the company already has products integrated into ICUs around the world.
Solving an Unmet Need
Paul Buckman, president of LivaNova's Advanced Circulatory Support division, is happy with the acquisition of ALung, calling it a great example of how universities and companies collaborate on medical solutions.
"They're solving a need that's unmet right now," Buckman said of the ALung team. "It's been really highlighted in the Covid pandemic. There are a lot of patients in respiratory failure or decline who are by default put on mechanical ventilation once nasal oxygen is not sufficient. Ventilators work, but, depending on how long patients must be on a ventilator and what their underlying conditions are, it's not uncommon to have a lung injury induced by the ventilator. The Hemolung brings a different approach to help those patients—it could be used adjunctively to a ventilator, and it gives the patient and the health care provider an option to the ventilator that's needed in several situations."
LivaNova has been a leader in cardiac assistive devices for some time, Buckman said, and the pandemic accelerated the company's expansion into respiratory devices.
"A lot of times, cardiac patients end up being respiratory patients and vice versa," Buckman said. "The pandemic brought home the fact that we needed to have a broader portfolio and broader presence in the entire mechanical-circulatory assist market. ALung was the perfect fit for us because what they're doing is something unique, and in a lot of ways the patient populations crossover and the technologies crossover."
Through the acquisition, ALung employees will collaborate with staff of TandemLife, another Pitt spinoff company that makes assistive cardiac devices, which was acquired by LivaNova in 2018. Many of the scientists have already worked together as colleagues or student peers. Federspiel says doctoral students from his laboratory have gone on to work for both companies.
Escaping the "Valley of Death"
Federspiel's own dissertation for his doctorate in chemical engineering was on quantitative effects of gas exchange in the body, and he later served on the faculty at Johns Hopkins University and Boston University. He came to Pitt in 1995, eager to work on his first bench-to-bedside project with the late Pitt surgery professor Brack Hattler on a device that could mimic gas exchange in the lungs. They founded ALung in 1997.
Life as a startup company sometimes felt akin to taking one breath at a time in the ICU. "They call it the 'valley of death,'" Federspiel quipped, referring to the biotechnology field's metaphor for the gap in funding between laboratory discoveries and real-world implementation. "There were some lean times when we only had three or four months of runway ahead of us before more money would need to be brought in."
Federspiel headed ALung's scientific advisory board and participated in weekly meetings where the business and scientific teams exchanged updates. UPMC Enterprises, Philips, Birchmere Ventures, BlueTree Ventures, and, of course, LivaNova were among the investors who continued to believe in the value of the Hemolung technology and its clinical and commercial promise.
"The university-corporate relationship and collaboration is really valuable in medical device development," said Buckman. "I've seen it work over and over again in different parts of the country. Because students are involved, everybody is looking at something that companies don't have the time or bandwidth to look at and explore. That's really hard for companies to aggregate to the same level and, particularly, to keep it fresh the way a university does. Universities kind of naturally come up with ideas and solutions, but then they need to go into the company environment.
"It's not always easy or without speed bumps because there are licensing issues and questions about who's going to make the money and who's going to pay for what. There are all kinds of issues that you always have, but they're all solvable and common. They just have to be worked out. The handoff usually enables that technology or therapy to ultimately become successful."
Buckman says he's primarily a fan of the ALung acquisition because the Hemolung technology is promising: The clinical data demonstrated that its clinical benefits outweigh the risks, earning it FDA 510(k) De Novo Clearance to treat patients with a range of respiratory needs, such as severe asthma, cystic fibrosis, covid, and lung transplantation. Plus, the Hemolung is user-friendly in most hospital settings, not only the most specialized locations.
Secondarily, Buckman is a fan of bringing ALung into the LivaNova fold because it's "convenient, efficient and complementary" thanks to LivaNova's established presence in Pittsburgh via TandemLife and its proximity to Pitt. Both Buckman and Federspiel say they're looking forward to ongoing collaboration.
"There's a lot of opportunity for our two businesses—TandemLife within LivaNova and ALung—to cross-pollinate and leverage our technologies, clinical expertise, clinical data, and target patient population into ways that their technologies can work together and help these patients at an even greater level," said Buckman. "It's not all the time that you see this where the employees from the new company can bring such immediate help and capability to the company because of the knowledgebase they have. I've been involved in a lot of acquisitions on both sides—being acquired and having done the acquiring—and it doesn't always work that way. It's not automatic. This one is really exciting because I think it's good for everybody."