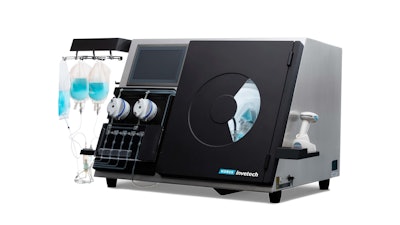 Invetech
Invetech has launched Korus, a closed system for autologous cell therapies that features elutriation and cell wash using gentle counterflow centrifugation.
Korus said the new technology has the potential to transform cell therapy industry standards, with supporting data demonstrating improved manufacturing performance compared to samples prepared by standard washing. The system delivers purified cell populations for downstream processing development and commercial manufacturing, resulting in better overall process performance through higher recovery and purity of target cells.
Innovation in cell processing is much needed to improve process development and GMP manufacturing performance and ensure a high enough yield for a viable therapy. Developers can now speed up clinical development, efficiently scale-out and be poised to be first to market with Invetech's new Korus system.
"To fast-track the commercialization of cell and gene therapies, our industry needs efficient and scalable manufacturing technologies that can deliver high quality therapies cost-effectively," said Andreas Knaack, Invetech's President. "Invetech's new technology offering, as demonstrated by our new Korus system, represents our continued commitment to helping make life-saving therapies accessible to more patients."
Invetech's Korus system uses a gentle elutriation process to provide a cleaner cell population for cell therapy production. Study results show a transformative change to processing starting materials compared to current industry standards that will set manufacturers up for downstream success.