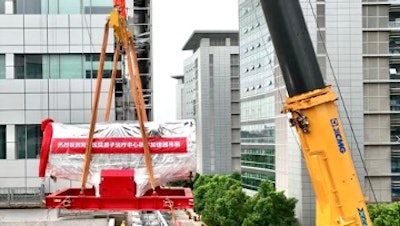 Business Wire
Mevion Medical Systems, a provider of compact proton therapy systems for use in radiation treatment for cancer patients, said that the accelerator for the MEVION S250i Proton Therapy System was delivered on July 28, 2022, to Tongji Hospital of Tongji Medical College, Huazhong University of Science and Technology in Wuhan, China.
This milestone commences the system installation at Tongji Hospital's proton therapy center, the first of its kind in Central China.
The system at Tongji Hospital features Mevion's industry leading HYPERSCAN Pencil Beam Scanning (PBS) technology and Adaptive Aperture pMLC. This duo provides more precise targeted dose delivery to tumors thus, minimizing the damage to surrounding healthy tissue and organs at risk. The system also integrates a diagnostic quality CT imaging system and a surface tracking system for patient positioning and intra-fraction motion management.