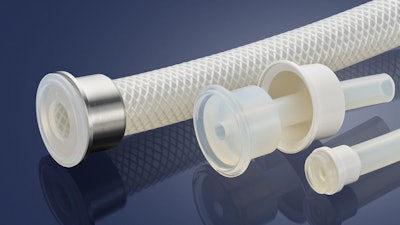 Business Wire
Freudenberg Medical, a manufacturer of medical and pharmaceutical devices, systems, components, and tubing, has introduced HelixTC overmolded sanitary ends in silicone for use in bioprocessing and single-use fluid transfer applications.
HelixTC is an alternative to standard barbed TC connections and is based on Freudenberg's PharmaFocus Premium product line of platinum-cured silicone tubing.
Available in standard or mini molded TC styles up to 1½ inch or 50mm OD and custom sizes or custom assemblies are available to order. The product comes with either stainless steel or polysulfone back-up cups.