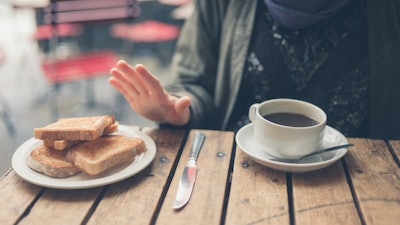 iStock
Thermo Fisher Scientific announces the clearance of ImmunoCAP Specific IgE (sIgE) Allergen Components for wheat and sesame allergies by the U.S. Food & Drug Administration (FDA) for in vitro diagnostic use.
Soon to be available nationwide, these blood tests can act as a diagnostic aid, helping specialists and other healthcare providers identify wheat and sesame allergies for patients at risk for a severe allergic reaction.
ImmunoCAP Specific IgE Allergen Component Ses i provides a quantitative measurement of sIgE antibodies through a simple blood draw to help improve the diagnosis of sesame seed allergy. The test offers higher clinical specificity than skin prick testing extracts and whole allergen in-vitro sIgE sesame tests. Results can help identify patients with sesame allergy at risk for severe anaphylactic reaction and ultimately achieve better outcomes and patient management.
"Sesame was recently added to the top nine major food allergen list through the FASTER ACT because sesame reactions are often dangerous and unpredictable," said Rebecca Rosenberger, MMSc, PA-C, Allergy Diagnostic & Treatment Center and Associate Director, Clinical Affairs & Education at Thermo Fisher Scientific. "Sesame is often a hidden allergen making the danger of accidental intake even greater. ImmunoCAP Specific IgE Allergen Component for sesame provides clinicians with a more complete assessment of the patient's allergy. It also helps evaluate the risks associated with a severe systemic reaction (e.g., anaphylaxis) and to better qualify patients for an oral food challenge."
ImmunoCAP Specific IgE Allergen Components for wheat measures IgE antibodies to Tri a 14 and Tri a 19 (omega-5-gliadin) components associated with severe reactions. Results help confirm IgE-mediated wheat allergy as a cause of symptoms, help identify clinically irrelevant sensitizations due to grass cross-reactivity and improve avoidance recommendations.
"Wheat is the third most common food allergy, but it's often misdiagnosed and confused with other digestive disorders like gluten intolerance and celiac disease," said Rosenberger. "ImmunoCAP Specific IgE Allergen Components for wheat help clinicians pinpoint true allergies and distinguish between wheat sensitization and grass cross-reactivity. This can prevent unnecessary diet restrictions for many patients."
ImmunoCAP blood testing is the most widely used sIgE test, with reference in more than 6,000 peer-reviewed publications. The tests can identify allergic sensitization to common environmental allergens – seasonal and perennial, indoor and outdoor – as well as common food allergens such as peanuts, eggs, and milk. ImmunoCAP tests, which are available in most major U.S. laboratories and can be ordered for patients of any age regardless of skin condition, current medication, disease activity, or pregnancy status.