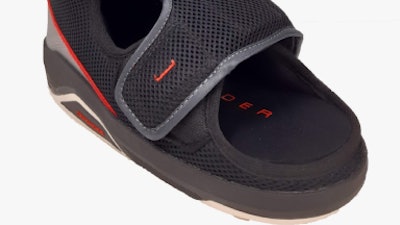 Sensoria Health
Sensoria Health, a developer of remote patient monitoring and artificial intelligence wearable solutions, and Defender, a designer and manufacturer of foot care solutions for people with complex foot care issues, announced the availability of the Foot Defender powered by Sensoria Smart Boot, a smart diabetic footwear. 
The Foot Defender powered by Sensoria is designed to help heal diabetic foot ulcers and reduce the risk of amputations for extended quality of life. The solution combines the Foot Defender Smart Boot with Sensoria Core microelectronics and the Sensoria Patient Mobile App and Clinician Dashboard to monitor a patient's diabetic foot ulcer healing and rehabilitation compliance to the clinician's prescribed stabilization and mechanical offloading protocol.
The Foot Defender powered by Sensoria is designed to improve patient adherence to mechanical offloading, monitors patient usage, activity, improves outcomes, and reduces healthcare cost.
Designed by Dr. Jason Hanft together with a former Nike shoe designer Michael DiTullio to create a protective boot specifically built to better protect foot wounds in a form factor that patients will actually want to wear.
Foot Defender by Sensoria has a shoe-like design with a low-profile abrasion resistant compression-molded outsole that alleviates average contact pressure across the foot by up to 50% as compared to other protective boots on the market. Used for both stabilization and offloading, the boot is non-intrusive, cost-effective, and readily usable or embeddable and deployable for a broad spectrum of devices and patient types, whether they are bed-bound, chair-bound, or ambulatory.