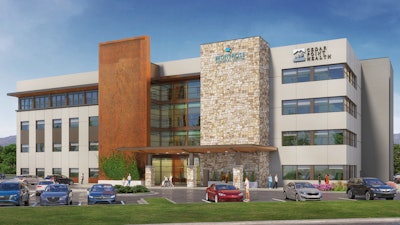 NexCore
NexCore Group has begun preliminary groundwork at the site of a new Ambulatory Care Center (ACC) in Montrose, Colo.
The project is moving forward in partnership with Montrose Regional Health (MRH), a nonprofit health care system serving Montrose, San Miguel, Ouray, Gunnison, Delta, Hinsdale and San Juan counties and the region's largest primary care provider, Cedar Point Health, and will be located near the intersection of Townsend and Rio Grande Ave. The projected grand opening is the fourth quarter of 2023.
NexCore will lease the land from the hospital and, when complete, the building will be 65 feet tall, four stories and 80,000 square feet. NexCore is working with TreanorHL as the project architect and Layton Construction as the general contractor. The new ACC will increase access to care, housing and various services on the western slope including outpatient laboratory, physical therapy, ambulatory surgery, specialty care, medical imaging and more. Women's health care will also be a primary focus with dedicated support for mammography and women's imaging.
"Organizing the delivery of care into a coordinated and integrated system resulting in a comprehensive medical office building is the goal of this ACC in Montrose," NexCore Senior Vice President of Real Estate Development Jim Hartmann said. "Housing specialties under one roof will slow outmigration of services so area residents can receive quality care close to home."