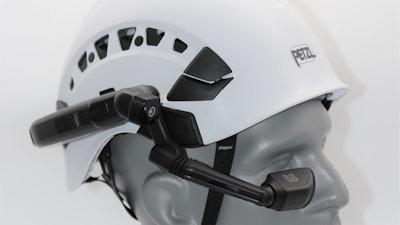 OPTAC-X
OPTAC-X, a telehealth company, today announced it has entered a deal to provide U.S. Army Special Operations Command (USASOC) and the John F. Kennedy Special Warfare Center and School (SWCS) with a global hybrid LTE and SATCOM enabled telehealth system. It advances the ability of special operations medics to provide remote, critical life-saving care and assistance in prolonged field care with expert physician oversight at the point-of-injury or time-of-need.
USASOC's initial purchase will place the OPTAC-X telehealth system, including global hybrid LTE and SATCOM connectivity by Kymeta Corporation, at the training institution at Fort Bragg, North Carolina. As part of the agreement, OPTAC-X will deliver sustained service and training on the use of its telehealth system.
The OPTAC-X telehealth system, successfully field tested by special operators deployed to Africa earlier this year, gives deployed special operations medics the ability to perform telehealth examinations with its advanced Look & Listen technology using RealWear Navigator 500, a ruggedized, heads-up display device (HUD). Charged with performing advanced life-saving procedures and prolonged field care in austere conditions, special operations medics will use OPTAC-X's integrated telehealth technology to communicate with a network of U.S. Department of Defense (DOD) physicians and surgeons offering advanced healthcare services at the time of need though separated by thousands of miles. What the deployed medic sees and hears at the time of need, the physician will see and hear at his or her location, enabling immediate life-saving and prolonged field care feedback.
The OPTAC-X telehealth system leverages its exclusive LTE and SATCOM services partner, Kymeta, to deliver industry leading global LTE and SATCOM capability. Kymeta's software-enabled, metamaterials-based electronically steered antenna (ESA) provides mobile satellite and cellular communications. Backed by U.S. and international patents and licenses, the Kymeta Osprey u8 addresses the need for lightweight, low-profile, and high-throughput communication systems that do not require mechanical components to steer toward a satellite, whether it be communications on the move (COTM) or communications on the pause (COTP).
As part of OPTAC-X's telehealth system, RealWear Navigator 500 HUD connects via OPTAC-X's proprietary, cutting-edge cloud technology and globally monitored, secure network. The use of RealWear through simple voice commands in loud environments up to 100 dBA, enables full hands-free device control and navigation. Physicians utilize the network to send video assets, images, charts or other material in 1080p that deployed medics can reference through the HUD device while simultaneously treating an injured soldier. OPTAC-X's telehealth system helps the modern Special Operation Forces (SOF) medic to perform tasks with increased safety, efficiency and precision which directly contributes to more lives saved.