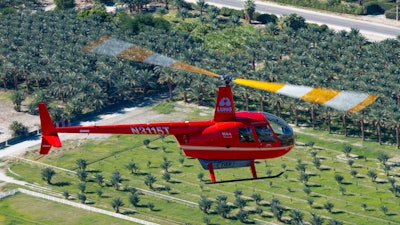 MagniX
magniX, a manufacturer of electric propulsion solutions for aviation, said it powered the first fully-electric helicopter flight between airfields, in partnership with Tier 1 Engineering. The modified electric Robinson 44 (eR44) helicopter powered with a magniX magni250 electric propulsion unit (EPU) made its journey from Jacqueline Cochran Regional Airport to Palm Springs International Airport in a flight that lasted approximately 20 minutes.
Tier 1 Engineering is developing the magniX-powered eR44 for Lung Biotechnology PBC, a subsidiary of United Therapeutics Corporation, a biotechnology company dedicated to addressing the severe shortage of transplantable organs in the U.S. The magniX EPU was retrofitted into the helicopter together with a battery system developed by Tier 1 Engineering, specialists in the design and development of electric aircraft. The eR44 is designed to deliver human and manufactured organs for transplant with zero carbon emissions at the point of use.
Since December 2019, magniX has also provided the technology to power a number of first flights, including that of Harbour Air's "eBeaver", a Cessna "eCaravan" and, most recently in September 2022, Eviation's all-electric commuter aircraft, Alice. This point-to-point flight of an electric rotary aircraft represents the latest first for the industry-leading electric solutions company. Tier 1 Engineering is currently working with the FAA on the eR44 project to obtain a Supplemental Type Certificate (STC). Lung Biotechnology PBC plans to acquire a fleet of sustainable aircraft to transport transplant organs.