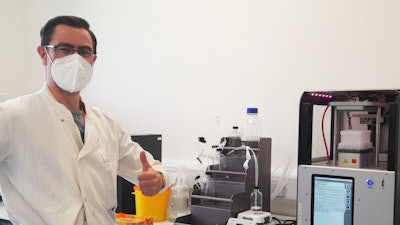 RevoluGen
UK genomics company RevoluGen announced an agreement with Tecan, a provider of laboratory automation, for the manufacturing and supply of Tecan's 96-well filter plates to be used in RevoluGen's automated Fire Monkey High Molecular Weight (HMW)-DNA extraction kits.
Automated DNA extraction using these specialized 96-well plates, which incorporate the proprietary Fire Monkey extraction technology and are optimized for use on Tecan's small desktop footprint Resolvex A200 positive pressure automation robot, speeds up and simplifies the preparatory workflow needed for high throughput of both short and long read DNA sequencing applications, ultimately reducing costs.
The two companies started to work together in 2020 to validate an automated DNA extraction workflow, the critical first step in the DNA sequencing workflow.
Following optimization of the multi-well plates in RevoluGen's R&D laboratories, this agreement is the final step to enable the commercial launch of an automated version of the Fire Monkey HMW-DNA extraction kits for high sample number applications, with availability expected early 2023.
RevoluGen's patent-protected technology is derived from a spin-column based protocol to extract HMW-DNA using a high g-force but which does not break down the long and fragile DNA molecules as much as standard spin-column technologies. Fire Monkey produces DNA fragments of an average 100kb in length that are not too short and not too long and are found to be in a relatively tightly defined range of lengths. The Fire Monkey extract has so few small fragments that separate size selection steps are usually not required and so few very long fragments that separate fragmentation steps are also generally not required. This selectivity improves the overall sequencing results by not wasting as much sequencing resources on either reading the less useful small fragments or blocking the pores or wells with fragments that are too long.