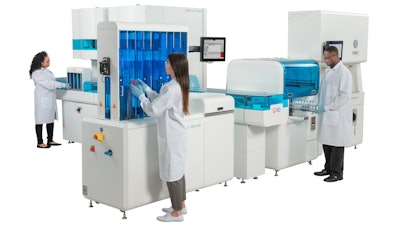 BD
BD (Becton, Dickinson and Company) today introduced a new, robotic track system for the BD Kiestra microbiology laboratory solution that automates lab specimen processing, which may help to reduce manual labor and wait time for results.
The new BD Kiestra 3rd Generation Total Lab Automation System allows laboratories to create a custom and flexible total lab automation configuration to connect multiple BD Kiestra modules and is scalable to meet labs' unique and evolving needs. With multiple track options and choice of instruments to employ, labs can choose their automation entry point and configure the system to fit their individual workflow and physical lab space.
From routine specimen inoculation processes to advanced incubation, imaging and colony selection for pathogen identification, the workflow can be fully automated and is customizable to fit the physical lab space. In addition, each step of the lab's diagnostic pathway is traceable and powered by BD Synapsys™ informatics solution to enable integrated workflows and on-demand insights that help empower laboratory staff to impact turnaround time, expedite laboratory decision-making, improve productivity, and support their compliance requirements.