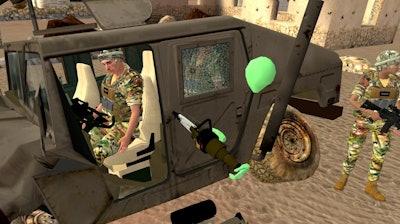 SimX
SimX and the U. S. Air Force are announcing a $1.7 million expansion of its ongoing effort to advance the future of medical simulation training using virtual reality (VR) technology. This effort, housed within the Virtual Advancement of Learning for Operational Readiness (VALOR) program at SimX, aims to enhance the usability and medical capability of virtual simulation training, with a focus on prehospital combat casualty care delivered by the Air Force's elite special operations medical personnel.
The project includes a substantial expansion of VR medical simulation training into areas never previously trained using immersive technology, including advanced airway and ventilator management, extrication tools, enhanced portable monitors and ultrasound capabilities, and an improved physiological model for field sedation and paralysis. Additionally, the project aims to substantially increase the reliability and ease of use of VR simulation across the global scope of deployment of technology, including automated self-serve familiarization and simplified training orchestration.
The SimX Virtual Reality Medical Simulation System (VRMSS) is widely deployed across the Air Force for use in tactical combat casualty care (TCCC) training, as well as across hundreds of civilian medical organizations for training physicians, nurses, emergency medical technicians, pharmacists, and other professionals. Col Clayton Rabens, Wing Surgeon of the U.S. Air Force 24th Special Operations Wing, said "The enhanced casualty care training capabilities being developed under this project are essential to maintaining the highest level of readiness for a future of large-scale operations conducted against near-peer adversaries. The new capability to train these critical skills in a virtual domain will ensure that our elite operators continue to provide the highest level of care to US and partner force casualties."
Funding for this effort was provided by the Department of the Air Force (DAF) under the AFWERX/AFVentures Tactical Funding Increase (TACFI) – Small Business Innovation Research (SBIR) program. The project is managed by the Air Force Life Cycle Management Center (AFLCMC) Special Operations Forces program office on behalf of the DAF.