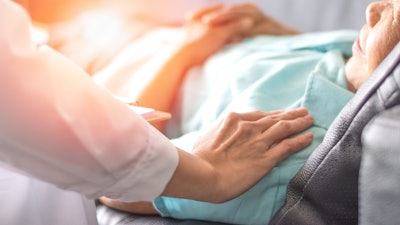 Aramark
Aramark, the provider of food, facilities, and uniform services to millions of people in 19 countries around the world, today announced an exclusive new partnership with the Healthcare Plus Solutions Group (HPSG), led by Quint Studer and Dan Collard. The partnership is part of the Aramark Healthcare+ strategy to drive evidence-based improvement for hospitals.
HPSG will develop coaching and training to build skills for patient interaction that gives Aramark Healthcare+ managers and front-line associates the expertise to support nursing units and help improve patient care.
The new HPSG and Aramark Healthcare+ partnership will be centralizing and formalizing the existing network of experience professionals integrated across all regions in the U.S. These teams will be scaled to deliver a foundational framework of practices designed to elevate the relationships with caregivers, patients, and the healthcare team within the Aramark Healthcare+ partnerships nationwide.
Together, the group will create a new "Leadership Development Institute" to teach techniques that effectively connect caregivers and patients. For example, Aramark Healthcare+ managers will learn to conduct guided rounding conversations with their front-line teams and will receive similar training and tools to have rounding discussions with nurses and patients. All training will include an official certification process.
Studer is an expert on business and healthcare leadership and is known for being one of the first to connect patient care to customer service, putting patient experience at the forefront. As former president of Baptist Hospital in Pensacola, Studer led the organization to the top one percent of hospitals in the country in patient and employee satisfaction. He was recognized by Inc. Magazine as a Master of Business, making him the only health care leader to win this award. The author of numerous best-selling healthcare and leadership books, he recently published The Calling: Why Healthcare Is So Special, to help health care professionals maintain and manage healthy emotional bank accounts.
Dan Collard, co- founder of Healthcare Plus Solutions Group, is a seasoned healthcare executive with more than 28 years of healthcare industry experience including operations, consulting, and technology start-ups. Dan served as Executive Vice President and Chief Growth Officer of TeamHealth, one of the nation's largest hospital-based physician practices. Prior to joining TeamHealth, Dan served as President of Press Ganey's Strategic Consulting Division and as CEO of EVOQ Medical, Inc. a healthcare technology start-up in Atlanta. Dan also spent 13 years at Studer Group as a senior leader, where he served organizations ranging from rural hospitals to complex health systems and academic medical centers.
Together Quint and Dan's work has focused on the human capital element of healthcare. Their conference "Replenishing Yourself, Your Team and Your Organization" hosted by Healthcare Plus Solutions Group serves as a resource for health care providers to replenish themselves to sustain and further their passion for healthcare.