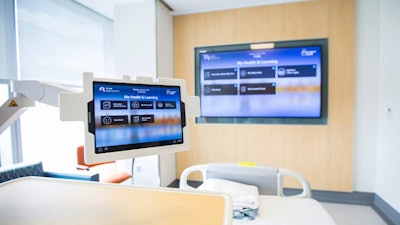 Oneview Healthcare
Oneview Healthcare has announced an enterprise-wide expansion of the Oneview-powered "MyWall" bedside technology platform to more than 900 additional patient beds at NYU Langone Health. This technology, which provides education, entertainment and communication for patients at the bedside, will be deployed at NYU Langone Hospital–Brooklyn, NYU Langone Hospital–Long Island, and additional beds at Tisch Hospital and NYU Langone Orthopedic Hospital in Manhattan.
The expansion will bring the power of Oneview's Care Experience Platform (CXP) to more than 1,600 inpatient beds across the system's inpatient locations by mid-2023, connecting patients, families, and care teams to more efficient services, education, and real-time information at the bedside.
"MyWall" is a branded version of Oneview's CXP that allows patients to access video interpretation services, communicate with clinicians, video call family members, access on-demand entertainment, and order meals. This expansion and the prioritization of key features can improve patient experiences and support operational efficiency gains for their care teams.
Oneview's team worked to successfully deliver and deploy a cloud version of "MyWall" during the COVID-19 outbreak that allowed rapid implementation of over 320 tablets in a matter of weeks at the height of the pandemic to enhance video-based care team communication with high-risk patients.
"The value proposition of technology at the bedside was greatly enhanced as a result of the pandemic. We are enormously proud of our long-standing relationship with NYU Langone Health and grateful for the innovation, passion and leadership that they bring to the partnership," said Oneview CEO James Fitter.
"'MyWall' plays an important role in personalizing the care process in the inpatient setting for patients and families. We are proud to offer this experience at all NYU Langone Hospital locations; it will serve as a platform on which we can build future digital innovations for the patient and care team experiences," said Caitlin Cronk, Senior Director for Digital Solutions at NYU Langone.