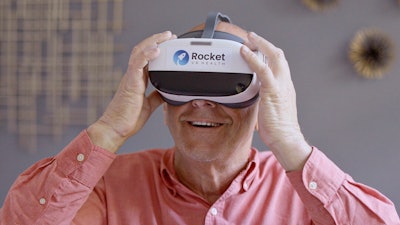 Rocket VR
Rocket VR Health, a virtual reality digital therapeutics company transforming mental health treatments with interactive mindfulness meditations and evidence-based digital therapeutics, today announced it has initiated a randomized control trial with Massachusetts General Hospital (MGH).
The 80-patient trial is examining the feasibility and preliminary efficacy of RVH's virtual reality digital therapeutic in improving quality of life, symptom burden, psychological distress and self-efficacy in adult patients with blood cancers admitted for hematopoietic stem cell transplantation (HCT) at MGH. Patients undergoing this type of treatment experience immense physical and psychological symptoms during a prolonged four-week hospitalization and endure significant short-term and long-term distress that affects their quality of life (QOL) and their physical and psychological well-being.
MGH is Harvard Medical School's largest teaching hospital. The Cancer Outcomes Research and Education Program (CORE) at MGH conducts innovative research and educational programs to improve the experience and outcomes of patients and caregivers across the continuum of cancer care. Dr. Areej El-Jawahri Associate Professor, Medicine, Harvard Medical School, and the Director of Digital Health at the Mass General Cancer Center and Dr. Hermioni L. Amonoo Assistant Professor, Psychiatry, Harvard Medical School, Associate Program Director, Psychiatry, Brigham and Women's Hospital will serve as co-investigators for the study.
Digital Health Interventions that support patients in reducing distress and improving psychosocial well-being are lacking and RVH and MGH partnered in early 2021 to co-develop this first of its kind evidence-based VR solution. The therapeutic recovery program leverages lessons learned from evidence-based palliative care interventions for patients undergoing HCT that were studied for years by the MGH team. The comprehensive 4-week therapeutic intervention combines interactive therapeutic experiences, high-definition doctor holograms and meditations taking place at breathtaking nature-based locations.
Therapeutic content is delivered on standalone Pico Neo 3 headsets that use a Qualcomm XR2 processor for next-generation performance and have over 2.5 hours of battery life. The headsets weigh only 1.3 pounds and have an ergonomic design while leveraging gaze-based controls removing the need for physical controllers.