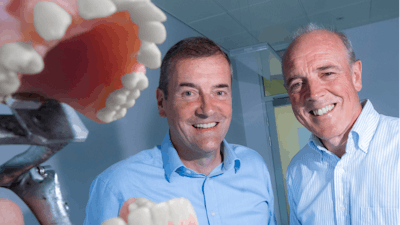 Calcivis
Dental imaging technology company Calcivis is setting its sights on US growth having secured pre-market approval (PMA) from the US Food and Drug Administration (FDA).
PMA approval is only awarded after a statutory process of scientific review to ensure the efficacy and safety of medical devices. PMA accreditation will allow Edinburgh-based Calcivis to tap into the multi-billion dollar US dental market.
The Calcivis Imaging System allows dentists to visualize decay 'live' as it happens on patients' teeth, providing crucial insight as to whether a caries lesion is likely to progress and requires treatment.
The imaging system applies a patented photoprotein which, in the presence of free calcium ions released from an actively decaying tooth surface, produces a very short, low level light flash. An integrated intra-oral sensor within the Calcivis imaging device immediately detects the luminescence (light flash) and presents clinicians with a chair-side demineralization map.