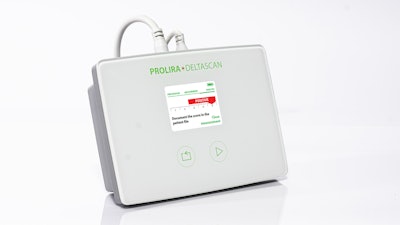 Prolira
Prolira BV, a high-tech company committed to enabling early and effective treatment of patients at risk of developing acute brain failure, announced today it has received 510(k) clearance from the Food and Drug Administration (FDA) for the DeltaScan® Brain State Monitor to aid in the diagnosis of acute encephalopathy in hospitalized patients over 60 years of age. The DeltaScan Brain State Monitor provides a quick and objective measurement of acute brain failure even before symptoms appear, enabling clinicians to provide immediate treatment and help patients regain cognitive well-being.
The DeltaScan Brain State Monitor is the first bedside platform designed to help clinicians objectively determine if a patient has acute brain failure even before symptoms occur by measuring polymorphic delta waves in the electroencephalogram (EEG). Nurses or technicians can easily perform a bedside measurement and obtain a clear negative or positive output in less than 5 minutes without requiring specialized personnel or complicated equipment. A large-scale clinical study of more than 400 ICU and post–operative patients (mostly 60+ of age) demonstrated a diagnostic performance of more than 85% for acute encephalopathy.4
"FDA clearance is a major milestone in our mission to make brain state assessments and follow-up interventions an integral part of standard practice. The uptake of DeltaScan in Europe has been strong and has allowed the company to incorporate clinician feedback into the product design, generate robust clinical evidence, and refine our commercial approach," said Dominic Spadafore, Chief Executive Officer, Prolira. "We're excited to bring our unique solution to the US and have developed a robust pipeline of US centers interested in our proven solution."