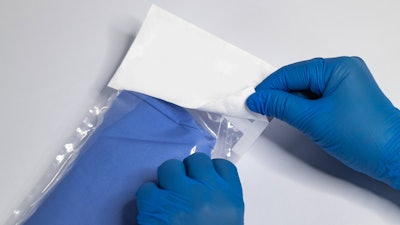 Cleanroom Film & Bags
Cleanroom Film and Bags (CFB), a division of C-P Flexible Packaging, has expanded its offering to include customized Tyvek sterilizable packaging.
Ideal for medical devices, pharmaceuticals and diagnostic instruments, CFB's sterilizable packaging made with Tyvek material provides a superior microbial barrier, excellent puncture resistance, and exceptional tear strength. Meeting the highest level of sterilization standards, CFB's Tyvek sterilizable packaging is compatible with gamma, plasma, autoclave, EtO and steam sterilization methods, and is available in a range of formats including peelable pouches and header bags.
CFB's package design capabilities paired with the company's proprietary manufacturing process allows for a high degree of customization to meet the specific requirements of each application. CFB supplies manufacturers of wound care products, implants, inhalers, surgical devices and medical instruments with a reliable source of Tyvek sterilizable packaging.
Michael Hoffman, CEO of C-P Flexible Packaging, said, "CFB has spent the past 25 years building a reputation as a trusted supplier of medical packaging with superior quality and lead times. This expanded offering allows us to fulfill the ever-increasing demand for Tyvek sterilizable packaging."