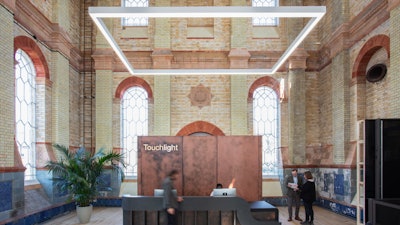 Touchlight
Touchlight, a company pioneering enzymatic DNA production, a critical material in many new genetic medicine treatments, has completed the redevelopment and expansion of its UK manufacturing facility, housed in a repurposed Victorian waterworks on the banks of the River Thames.
The expanded state-of-the-art facility's manufacturing capacity has tripled and is now capable of producing more than 8kg a year. This exceeds the current, but growing, global supply of plasmid DNA for genetic medicine. The new facility has 11 suites and includes two class B filling suites with class A filling cabinets, warehousing, together with a quality control laboratory capability and has already received a successful customer quality audit from a Big Pharma company.
Touchlight's proprietary doggybone DNA (dbDNA) overcomes the technical challenges associated with efficiently mass-producing plasmid DNA. The patented dbDNA technology produces a minimal, linear, double stranded, covalently closed DNA vector through an enzymatic manufacturing process. dbDNA is uniquely positioned for the rapid, synthetic, and scalable manufacture of GMP DNA using a small, simple footprint. The technology can incorporate genes from 500bp to 20kb and accommodate sequences typically unstable as plasmid DNA in E. coli, such as those found in viral vector and mRNA production.
Demand for DNA from biopharmaceutical companies is increasing exponentially given its critical role in genetic medicines, including mRNA vaccines and gene therapies, enabling the potential of emerging new drug classes such as gene-editing treatments and novel cancer therapies. Touchlight has contracts to supply many of the top ten biopharmaceutical companies in the world, including Pfizer, as well as Lonza.
Touchlight was founded in 2007 and has been based at the Morelands and Riverdale Buildings on the banks of the River Thames, since 2015, housing the Company's growing 150 staff. The unique new 515m² facility now comprises 11 state-of-the-art good manufacturing practice (GMP) DNA manufacturing suites, bringing the total on site to 15, more than tripling the company's DNA manufacturing capacity.
The completion of the building project follows the US Food and Drug Administration (FDA) acceptance of a Drug Master File for GMP-grade dbDNA™ in December, and a further FDA approval a month later for the first investigational new drug application (IND) using dbDNA in an in-human trial planned by one of Touchlight's clients. A dbDNA-derived AAV product previously entered clinical testing in Europe in 2022.
In April, the Company also won a substantial grant to accelerate its manufacturing program from the Life Sciences Innovative Manufacturing Fund, which is jointly backed by government and industry to support life sciences businesses investing in manufacturing projects in the UK. It completed a $125m fundraise in 2021.
The Morelands and Riverdale Buildings have a long history, having once been a Victorian waterworks built to supply fresh water to London's East End to tackle the 19th century cholera epidemic. Touchlight began the complex renovation of the building in 2016, which required careful architectural design, led by Chapman Architects, and complex engineering work to make the space suitable for research and development and manufacturing activities, whilst maintaining many of the building's original features, such as the brickwork, tiling and windows.
The building's slate-covered roofs required extensive work, supported by original iron and steel trusses, which were innovative at the time of their design and have been preserved as part of the restoration, weaving beautiful Victorian architecture and engineering with high-tech labs, meeting rooms, manufacturing suites and other workspaces.