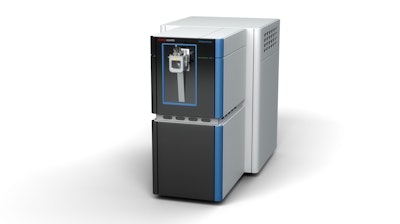 Thermo Fisher Scientific
Thermo Fisher Scientific unveiled the Thermo Scientific Orbitrap Astral mass spectrometer, one of the most significant advancements in mass spectrometry in 15 years. The new Astral analyzer combines fast throughput, high sensitivity and deep proteome coverage to allow researchers worldwide to uncover proteins that previously evaded detection and make breakthrough discoveries more efficiently than ever. Researchers can use this information to identify new clinical biomarkers, reveal diseases earlier and develop new interventions for everything from cardiovascular disease to cancer.
Advances in genomics have led to valuable insights into disease. Proteomics expands on this research by adding new understandings of complex and dynamic cellular-level processes that can lead to the development of new drugs and diagnostics that have a material impact on human health.
The new Astral analyzer builds on Thermo Fisher's proven Orbitrap mass spectrometry platform with novel technology to deliver up to two times deeper proteome coverage and up to four times more throughput compared to current mass spectrometers.
Thermo Fisher will showcase the Orbitrap Astral mass spectrometer at the American Society for Mass Spectrometry (ASMS) annual conference from June 3-8, 2023, in Houston, Texas, at the George R. Brown Convention Center and at the Hilton Americas-Houston Lanier Grand Ballroom A, B, C. The Orbitrap Astral mass spectrometer together with additional new products being introduced at ASMS create a next generation, end-to-end solution for proteomics that enables the analysis of large cohorts, powering the study of proteomics at a scale previously only obtainable by genomics.