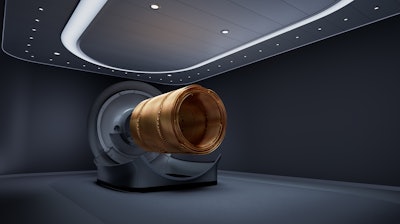 Philips
Royal Philips has received FDA 510(k) clearance for its new MR 7700 3.0T MR system. The XP gradients of MR 7700 provide high accuracy to support a confident diagnosis for every patient with Philips' diffusion imaging and advanced neuroscience, supporting improved patient care and lower costs. MR 7700 expands scanning capabilities with a fully integrated multi-nuclei imaging and spectroscopy solution.
Scientists and clinicians can now access the scanner without compromising workflow. The new MR 7700 allows radiologists to image six different clinically relevant nuclei across all anatomies, offering the ability to increase diagnostic confidence and add important metabolic information to MR exams to help tackle complex research programs and improve clinical decision-making to help provide improved patient care. With its AI-driven smart connected imaging, optimized workflows and integrated clinical solutions, MR 7700 helps to improve MR department productivity, enhance patient and staff experience, and deliver high quality diagnostic imaging.
"Our highly specialized team of MR physicists are very happy with the ease of use of Philips' MR 7700 system, especially the implementation of new imaging protocols which is quite simple," said Prof. Walter Heindel, Professor of Radiology and Chairman of the Department of Radiology at the University Hospital Münster in Germany. "The low effort required for modifying scan parameters and protocols supports fast and easy experimentation with imaging techniques. These latest features clearly help improve our patient and staff experience and distinguish Philips as one of the main reasons we choose this system."
MR 7700 uses the automated technology of SmartWorkflow to guide and coach where required. In addition to conventional proton magnetic resonance imaging and spectroscopy, MR 7700 has in-built MR protocols to combine proton imaging with imaging based on sodium, phosphorus, carbon, fluorine, and xenon. This multi-nuclei capability makes MR 7700 suitable for enhanced anatomical and metabolic/functional imaging in areas such as neurology, pulmonology, and oncology to help deliver fast, and confident definitive decision-making.