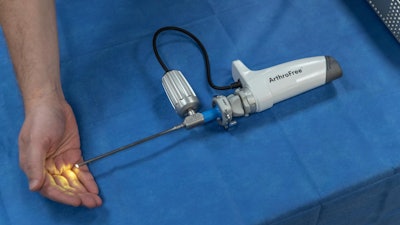 Lazurite
Minnetronix Medical said it was selected by Lazurite, which develops medical devices for operating rooms, as its development and manufacturing partner for the new ArthroFree Wireless Surgical Camera System. The companies said ArthoFree is the first and only such camera system to receive FDA 510(k) market clearance.
Minnetronix was chosen by Lazurite for its experience in designing, developing, manufacturing, and commercializing complex optical systems. The team of optics experts at Minnetronix optimized the ArthroFree's image signal processing chain – the signal path an image takes to travel through the system, from initial capture on an image sensor to on-screen display. The Minnetronix team was able to reduce latency and increase image quality, enabling physicians to see high-quality real-time video from the wireless device.
"We found a technical solution to overcome the assumption that a wireless device can't perform as well as a traditional wired system," said Minnetronix vice president and general manager Matt Adams. "The ability to move from wired to wireless with the same, or even enhanced, clarity sets a new standard in the industry."
Minnetronix also applied its design-for-manufacturability expertise to the project, identifying several enhancements to make the device more efficient to manufacture, reducing cost and assembly time.
The ArthroFree System is designed to be a modular system that is drop-in compatible with existing patient data consoles, surgical displays, and endoscopes used in minimally invasive operating rooms.
"From end-to-end, Minnetronix provides the expertise needed to commercialize the device," said Eugene Malinskiy, chief executive officer and cofounder of Lazurite. "Our goal was to be the first wireless surgical camera to receive FDA clearance. The quality of our system and the manufacturability of its design were a result of our partnership with Minnetronix and two major factors in achieving our goal."
Minnetronix's work with Lazurite is the most recent example of the growth of the company's optics business. In March, it announced its role in bringing Oculogica's concussion diagnostic device to market and launched a strategic partnership with the optics research organization INO.