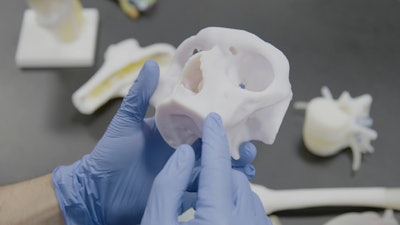 Ricoh
RICOH 3D for Healthcare has received 510(k) clearance from the U.S. Food and Drug Administration (FDA) for its craniomaxillofacial (CMF) and orthopedic patient-specific anatomic modeling.
RICOH 3D for Healthcare is an integrated HIPAA-enabled workflow solution for the development, design and production of 3D-printed anatomic models, produced using Stratasys 3D printing technology, that enable healthcare providers to develop patient-specific representations of tissue and bone.
The replicas help clinicians see inside anatomy for greater visibility into patient needs. RICOH 3D for Healthcare integrates with IBM iConnect Access, an enterprise imaging solution from IBM Watson Health that is used in many hospitals across the U.S.
Providers can select from one of two options based on their preferred workstyles or needs. They can choose a point-of-care option, where a Ricoh Managed Services team works onsite at a healthcare facility to manage the entire process using Stratasys 3D printers. Alternatively, healthcare providers can select an on-demand option where they order and have the models printed at a Ricoh facility and shipped directly to them.
"Ricoh is committed to healthcare innovation that will turn the tide on patient engagement and precision medicine. RICOH 3D for Healthcare does just that—offering a model matched to the unique anatomy of each individual patient," said Gary Turner, Managing Director, Additive Manufacturing, North America, Ricoh USA, Inc. "One of our goals is to address the needs of doctors and patients in specific areas with particularly high demand for 3D-printed anatomic models, the 510(k) clearance for CMF and orthopedic models moves us further toward reaching this goal."
Ricoh plans to solicit 510(k) clearance for additional treatment regions in the future.