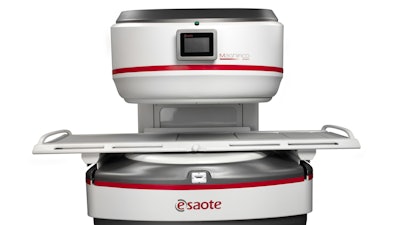 Esaote
After recent FDA approval, Esaote North America said it completed the first installation of the Magnifico Open MRI system at the Sport Ortho Urgent Care clinic in Murfreesboro, TN.
Equipped with technologies like Speed Up, True Motion, and Metal Artifact Reduction (MAR) for patients with metal implants, the Magnifico Open offers imaging across a range of clinical applications. The open gantry design for scanning claustrophobic patients, children and large adults and has a compact footprint uniquely suited for hospitals, imaging centers and in-office clinics.
"We chose the Magnifico Open from Esaote because it offered the best option for our clinic size. The small footprint allows us to get a great magnet that produces excellent images and offers our patients a streamlined continuity of care all in one place," said Brant Bell, MSM, PA-C, Founder/VP of Clinical Services, Sport Ortho Urgent Care.