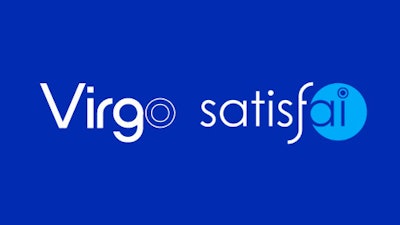 Newswire/Associated Press
Virgo Surgical Video Solutions, Inc. and Satisfai Health Inc. today announced an exclusive partnership to revolutionize gastroenterology decision support and clinical research with AI-fueled, cloud-enabled endoscopic solutions. Virgo, the industry leader in endoscopy video capture technology, and Satisfai, a vanguard in developing artificial intelligence solutions for gastroenterology, will leverage their combined strengths to realize the full potential of AI-powered precision imaging that will revolutionize GI medicine.
"Artificial Intelligence in medicine is being increasingly adopted across various clinical specialties, with gastroenterology being one key field of use, particularly endoscopy," said Dr. Michael Byrne, CEO and founder of Satisfai Health, Clinical Professor of Medicine and gastroenterologist in Vancouver. "At Satisfai, we are proud of the comprehensive range of our AI solutions, and believe that our suite of tools addresses the key clinical and market needs. We have watched our colleagues at Virgo grow their video capture and cloud capabilities exponentially over the last few years, and recognize that they are the perfect partner to host our growing range of AI solutions for GI clinical practice and clinical trials."
"We are seeing impressive data showing the benefit of AI solutions in GI endoscopy that improve doctors' live performance, and thus improve patient outcomes," said Dr. Nasim Parsa, gastroenterologist, and VP of Medical Affairs at Satisfai. "Having recently completed my advanced training at the Mayo Clinic, it is incredibly exciting to see AI solutions improve endoscopic training, and essentially put an expert on your shoulder in every endoscopy suite globally. Partnering with Virgo is a great step towards achieving this aim."
Today, gastroenterology teams at many of the world's leading academic GI and IBD centers, integrated hospital networks, and private practice groups use Virgo to capture and compile their endoscopic video data into a single, easy-to-use platform without interrupting clinical workflows. Virgo's automated video capture technology, combined with Satisfai's real-time analysis of endoscopic imaging data and companion diagnostic tools, will enhance physician decision-making and dramatically improve patient outcomes across many GI disease states - including colon cancer, inflammatory bowel disease, Barrett's Esophagus, Celiac disease, and Eosinophilic Esophagitis.
"After working with the brightest clinical minds in GI endoscopy over the last several years, and getting to know both the product vision and team at Satisfai, we believe that bringing Satisfai's marquis solution set to our end-users is the best way for Virgo to continue adding clinical value to gastroenterologists, both in a Standard of Care and Research capacity. We could not be more excited to realize this vision and bring real-time, in-line AI solutions to gastroenterologists worldwide," said Ian Strug, co-founder and Chief Customer Officer at Virgo.